Andela Review: Pros, Cons, Pricing, and Alternatives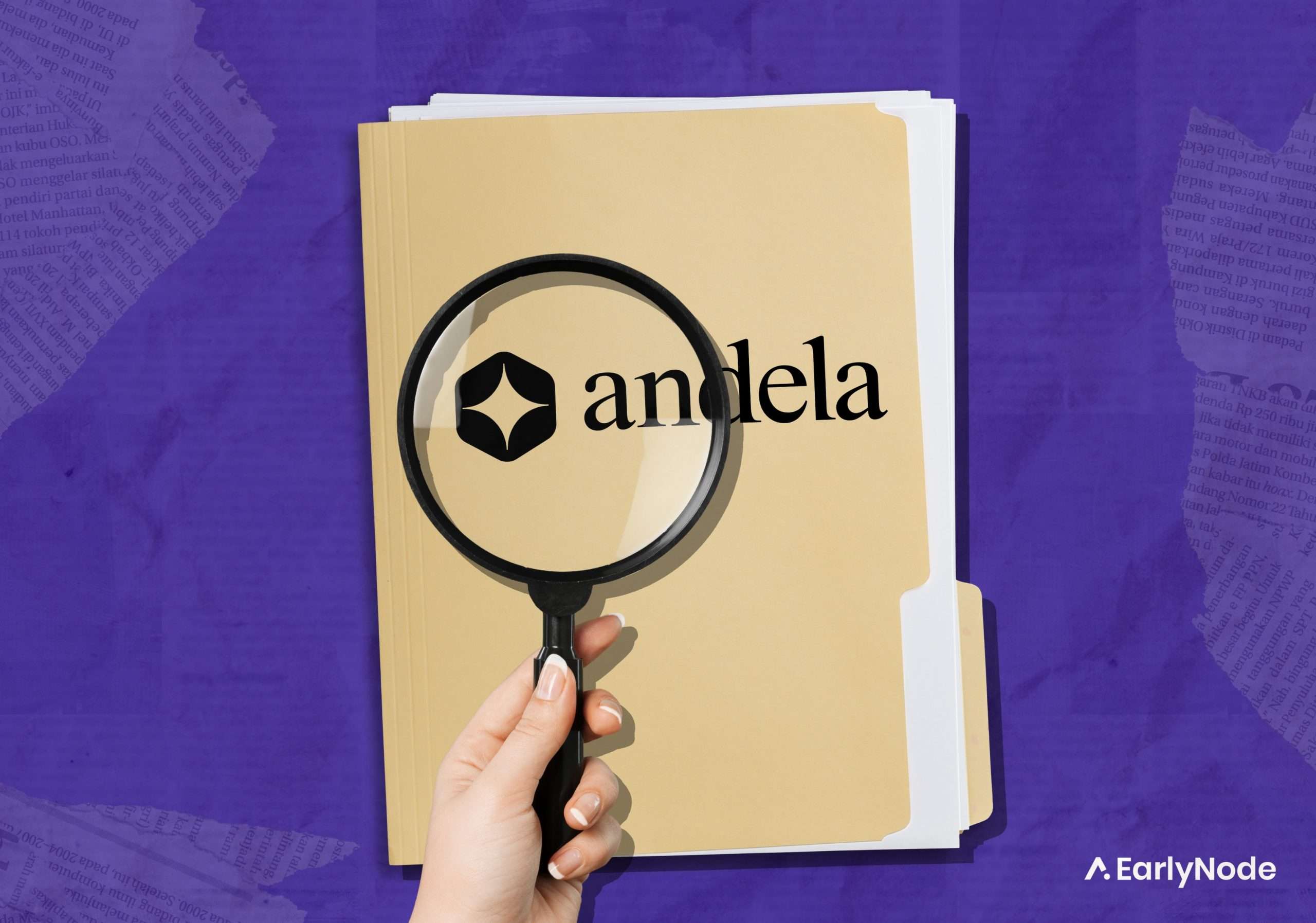 What is Andela?
Andela is one of the leading platforms for hiring tech talent all over the world and building your development team. You can find experts in every domain, whether design, product, or engineering. 
Here are some interesting numbers for Andela:
Represented 110+ countries across 6 continents
96% success rate for placements
An average engagement time of an Andelan is 18+ months
How To Hire Tech Experts For Your Startup Through Andela
Andela is quite efficient with its hiring process, claiming to help tech teams hire within days instead of weeks or months. 
Here's a simple 4-step process on how you can start hiring talented developers and designers through Andela:
#1 Create a Job
The good thing about Andela is that you can create unlimited jobs for each tech role.
Simply fill out their form and define the skills and qualities you're looking for in a specific role, the years of experience they should have, and your budget for the project. Once you've filled this out, continue to the next step.
#2 Browse Potential Talent 
After you process your job form, you'll be immediately matched with top-quality candidates according to your criteria. 
You'll be given suggestions on different candidates who fit your timezone and budget requirements as well.
Schedule a Meeting or Interview
Let's assume you found a potential candidate immediately, the next step for you is to schedule a direct interview with them to see if they're qualified for the position or not.
Talk to them about your project, what you require, and see if they're the right fit for your team.
Hire and Start Working
The best part of all: the approval! 🎉
If you give the green light to the developer and they're ready to work too, then you can hire them in one click. 
Pros, Cons, and Key Features of Andela
Pros
1. Strict vetting process
Andela claims to help you employ top-notch developers through a thorough selection approach consisting of past evaluations, mental assessments, and partnered programming activities. They get roughly 25,000 candidates who apply each year with an acceptance rate of 0.5%.
2. Clear price brackets
Some platforms have varying rates which can cost you unnecessary time and energy to finalize developers – Andela is transparent with their pricing.
If you want to hire a junior, mid-level, or senior developer, you'll have to pay a certain amount in a price bracket for that. Nothing more, nothing less.
3. Quality talent 
Andela boasts over 250,000 expert engineers, product managers, and designers on their platform. Seeing as each individual goes through a thorough check, the odds are pretty good that you'll find an ideal developer for your software needs.
Cons
1. Shortage of senior developers
Might be missing experienced coders. Even though they once had an awesome learning plan to develop seasoned pros, they've not had many skilled developers join their talent pool. Just lately, they've switched to bringing on board veteran programmers.
2. Only Longterm Hires 
Andela emphasizes more on creating long-term deals between developers and clients – meaning it's not feasible to hire freelance developers for short-term projects.
3. Expensive Developers
Andela's pricing isn't market competitive. If you have a tight budget, then you'd probably be better off with other tech hiring platforms such as ReactSquad, Toptal, or Turing.
Key Features
The platform has a database of over 250,000+ expert developers.
Andelans typically get an 84% increased income compared to an average candidate.
Andela offers a variety of developers skilled in multiple programming languages and tools such as Python, PHP, Java, Ruby, Salesforce, Android, etc. 
Andela Pricing
As we discussed before, the good thing about Andela is you can get really transparent about pricing from the get-go.
Whether you're hiring an entry-level DevOps engineer or experienced developers with a proven track record, Andela gives you estimates for each type of skill. 
Here are Andela's pricing brackets according to your developer needs:
Junior: $20-40/hour (0-3 years of experience)
Mid–level: $35-60/hour (3-7 years of experience)
Senior: $50-100/hour (7+ years of experience)
Top Andela Alternatives
Andela is a great platform for hiring tech talent, but it may not be the best fit for all your needs if:
You have a tight budget.
You need to hire a specialist developer.
In either of these cases, you need to resort to other platforms, such as these: 🔽
ReactSquad
ReactSquad is an exclusive agency that helps SaaS startups accelerate their product development by providing them with remote React-specialized engineers. 
Having already worked with over 15 fast-growing startups like Crolla Lowis, Lotto, Green Fusion, GridX, Dango, and many more, ReactSquad can be your go-to platform if you are looking for efficient React engineers to join your team.
Here are some interesting benefits you can get from hiring at ReactSquad:
✅ Start working with a developer in less than 7 days.
✅ You can hire a single developer or a team. 
✅ ReactSquad offers a 14-day risk-free trial. If you're not satisfied, then the cost is on us.
✅ We offer flexible contract options tailored to your needs, reducing overhead costs and making the most of your resources.
✅ Hire React-specialized developers who're proficient in Next.js, JavaScript, TypeScript, Redux, Styled Components, TailwindCSS, and Remix,
✅ Flat rate of $95/hour.

If you're interested in working with us to fast-track your product development, reach out to us here.
CloudDevs
CloudDevs is a hiring platform for developers who have worked with hundreds of SaaS companies, including VC-funded startups and Fortune 500 companies. 
If you want to hire specifically Latin American developers, then CloudDevs is the right option for you.
Here are some facts and figures for CloudDevs:
CloudDevs has a talented developer assigned to your team within 24 hours
The platform allows you to work with hired developers outside of the platform after reaching mutual agreements.
CloudDevs uses an intensive screening process to hire all top-notch developers.
Developers are skillful in C#, C++, React Js, Django, Java, Net, Ruby on Rails, and so on. 
Risk-free 7-day trial with a $500 deposit.
Transparent rates of $35 – $75 per hour, depending on the package you choose.
Toptal
Toptal is a global hiring platform for recruiting top freelance developers, designers, and project managers.
This platform can help you hire tech talent at any seniority level from anywhere in the world.
Some features of Toptal:
You can get matched with a prospective candidate within 48 hours.
Their intense screening process helps you find the most talented candidate(s).
After you choose a candidate and pay an initial security deposit of $500, the developer can start working with your team as soon as possible. 
They have a 2-week risk-free trial period – if you aren't satisfied, you can ask for a refund. 
Pricing is generally at $60-$180 per hour.
Turing
Turing is one of the top-most platforms to hire talented software developers. You can hire from over 2 million qualified candidates from all over the world.
Here are some key features of the platform:
Risk-free 2-week trial to find the best tech talent for your startup.
You can hire a developer and start working with them within a week.
Turing's global outreach connects you with the right people from all over the world.
Strict developer skill assessment to filter candidates who are the best fit for the role.
Their rates vary from $70-$200 per hour depending on seniority level.
Summary: When Should You Hire Through Andela?
Determining when to hire through Andela depends on various factors.
With Andela, the hassle-free hiring process is quite attractive for businesses. They also handle the legal aspects, making it easy to find highly skilled and gifted developers. The company is confident that you can find a quality developer in a specific region through their platform.
For many organizations, Andela's approach is a highly dependable and secure option for outsourcing developer teams. Although it's not a traditional freelance model, the startup provides consistent and well-guided teams of developers who excel in remote cooperation and fulfilling client expectations. But in certain use cases, like hiring React-specialized engineers, it's better to resort to specialist platforms such as ReactSquad.io.
A weekly dose of insights to grow your SaaS.