10 Best Changelog Tools for SaaS Companies in 2023 (Including Free Tools)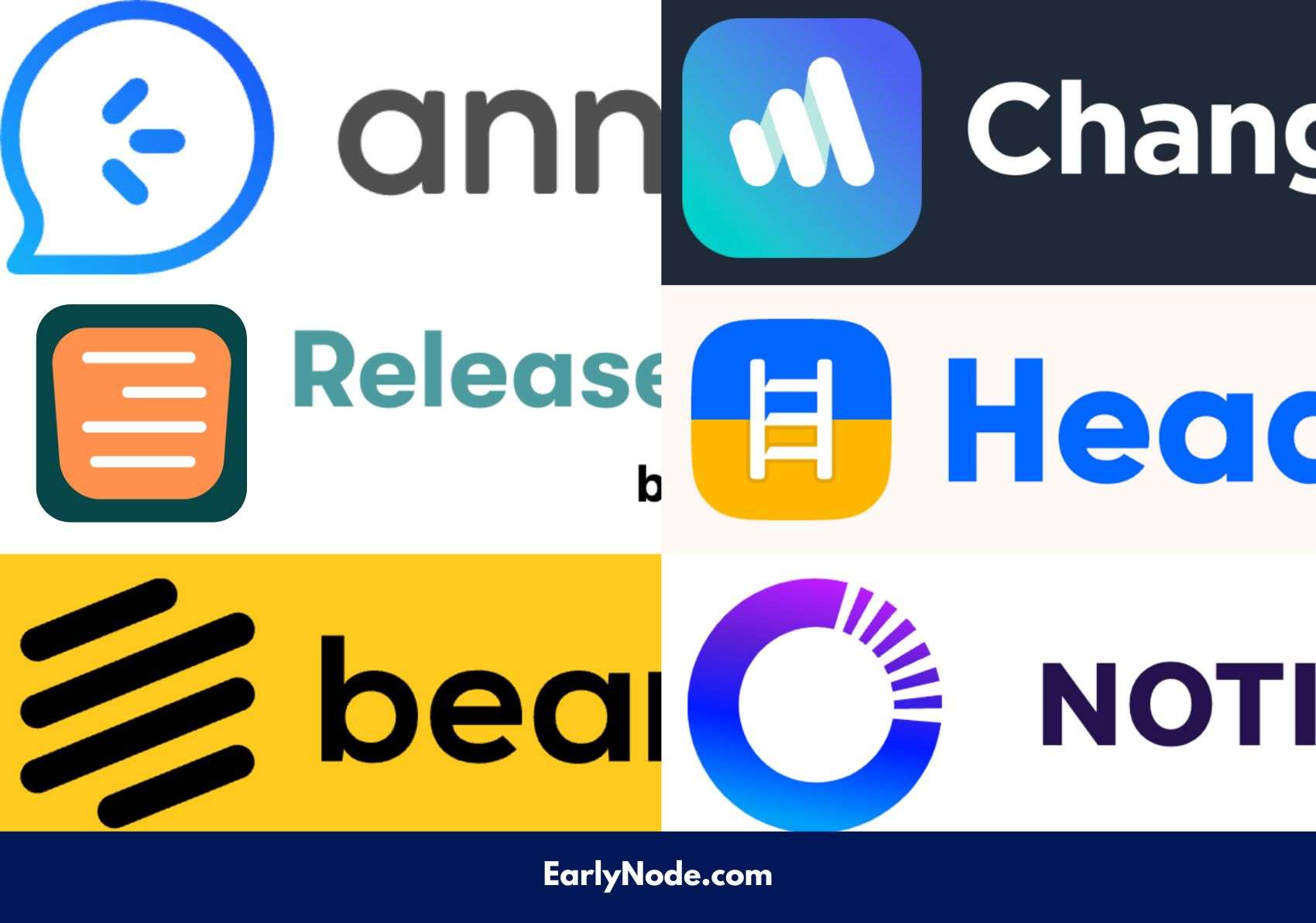 A changelog is important for keeping users in the loop about product updates. But it's time-draining to build one from scratch. Luckily, some tools can do the work for you so that you can focus your time and energy somewhere else. We've compiled a list of the best paid and free changelog tools to consider for your SaaS product. 
Best Paid Changelog Tools for SaaS
Releaselog is a slick and simple changelog tool by EarlyNode. It is designed for SaaS startups to send out beautiful feature announcements and product updates to their users in minutes.
It's perfect for busy founders and PMs that want to keep their users engaged. With a user-friendly interface and an easy-to-use editor, you can write, review and publish your release notes and customize your changelog to fit your brand identity. 
There are a few downsides. For example, there's currently no way to collect user feedback or send notifications via email, although the team at EarlyNode is working hard to make these features available. But if you just want a simple changelog that gets the job done with no hitches, Releaselog is the ideal choice for you. 
Pricing: $25 per month + free tier for up to 1000 visitors
Key features:
Embeddable widget
Standalone page
Customizable changelog appearance
Custom domain
2. ReleaseNotes
ReleaseNotes makes it simple to manage and send your release note. The tool uses an in-app widget to give users a quick overview of your product updates. It is great for presenting a visually pleasing changelog. However, it is optimized for internal releases with your team. That's why it doesn't provide a way to collect and analyze user feedback or offer any functionality for product road mapping.
As a paid tool, ReleaseNotes also requires an additional fee for email notifications at $10/month per 1000 subscribers. Plus, it lacks several features, such as SEO settings, custom CSS/JS, and feedback widgets.
Pricing: Starts from $29/month. Pay $10 extra for every 1000 subscribers.
Key features:
Unread Badge: shows a count of how many new release notes the user is yet to see
Custom Domain
Custom HTML/CSS
Email announcements
ReleaseNotes User Reviews
We tried our best to get reviews from the top review sites, but there were none at the moment. 
3. LaunchNotes
In addition to providing a public page for your end users, LaunchNotes allows you to create private changelogs to share confidential info with your internal team. Though it integrates with Slack and Jira, LaunchNotes falls short in terms of integration options. For example, it doesn't have a Zapier integration. 
Despite this, it offers a changelog widget, a customizable subdomain, and tons of other features, which are great but you'll probably never use them all.  
Pricing: Basic plan costs $29/month.
Key features:
Scheduling tool
Email announcements
Slack integration
Feedback collector
LaunchNotes User Reviews
LaunchNotes has received a lot of positive reviews on G2 and Capterra. 
There were some negative reviews too. Most highlighted LaunchNotes' lack of integrations and analytics tools. 
4. AnnounceKit
You can use AnnounceKit to create a "newsfeed" style page on your website for your release notes. One of the main benefits of AnnounceKit is the easy setup and integration with 3rd-party tools and websites.
The user interface is also user-friendly and customizable. AnnounceKit offers several useful features, such as tools for boosting specific notifications and segmenting users, and the option to integrate with Slack and email. Though it allows for the scheduling of posts, the process to do so is not so easy. The user feedback feature is built into the changelog, meaning that your users can provide feedback solely through the platform. 
Among all the alternatives on this list, it's the priciest, and client onboarding support is only available in their enterprise package.
Pricing: Basic package is $89/month.
Key features:
Feedback collector
AI Writing Assistant
Analytics tool
Drag-and-drop editor
AnnounceKit User Reviews
The number of positive reviews on Capterra and G2 indicates it's a good tool. Customers consistently praised their customer support. 
But not all users were pleased. It was due to the limited integration options and the high cost of accessing basic features. 
5. Beamer
With Beamer's changelog tool, you can build a standalone page or update users with a notification widget in your app. Beamer is a popular choice for many companies due to its advanced customization features, but the basic package doesn't include a lot of functionalities. 
For example, they don't allow for custom domains or creating user segments unless you upgrade to the $120/month Pro package. Online user reviews point out how it slows down their websites, and there are concerns about the text editor. 
While Beamer allows user feedback, it is limited only to comments on release notes. Plus, you'll need to upgrade to a higher paid plan to access that feature. 
Pricing: Starts at $59/month.
Key features:
Schedule posts
Feedback collector
Push notifications
User segmentation
Beamer User Reviews
One user liked Beamer's array of features and the good customer service it comes with. 
Another user had good things to say but also pointed out the issues with Beamer's text editor on Capterra.
6. Headway App 
Headway App was one of the popular changelog tools when it launched in 2016. It offers the basic functionalities; an in-app widget, a public changelog page, and a custom domain. It also allows integration with Slack and Twitter and creation of a private changelog.
It lacks features you'd find in other changelog tools, but if you just want a changelog, Headway can do that. There's a slight downside. It stopped getting regular updates in 2020. Apart from a single product update in 2021, there's been none since then. You're better off sticking with tools that are regularly updated. 
Pricing: $29/month for a full set of features. 
What makes it great:
Twitter integration
Custom domain
Build unlimited changelogs
Headway App User Reviews
Reviews on Headway were hard to get, but the one we found highlighted the tool's simplicity. 
7. Noticeable
Noticeable's changelog allows you to create and share detailed release notes with both internal teams and external users. You can embed their widget into your app or opt for standalone changelog pages to enjoy SEO optimization benefits. 
Other features include custom domains and sending notifications via email. The dashboard is clean with a simple WYSIWYG editor but has limited design customization options. 
They could do with more 3rd party integrations; currently, only Zapier is possible. If you want full feature access, including user feedback, analytics tools, and custom CSS, be prepared to cough up $160 monthly.
Pricing: Starting at $29/month 
Key features:
Zapier integration
User segmentation
Team collaboration
Custom domain
Single Sign On (SSO)
Noticeable User Reviews
Customer support was a major positive around Noticeable reviews. Negative reviews dwelt on Noticeable's 3rd party integration options and the issues with their editor. 
8. Changelogfy
With Changelogfy you can build a dedicated newsfeed to create and share product updates and feature releases. It integrates well with Slack, Discord, and email so that you can send announcements to multiple platforms. 
But you might not have the best user experience as the interface is a bit confusing, according to some users. Pricing is not entirely transparent either, so you could potentially encounter some hidden fees. 
Pricing: Basic package is $19/month.
Key features:
Dedicated newsfeed
Slack and Discord integration
User segmentation
Feedback collector
Changelogfy User Review
It appears Changelogfy's interface is complicated and some of its features don't work smoothly, despite the easy setup.
Best Free Changelog Tools for SaaS
1. GitHub
GitHub allows developers to collaborate together to build and ship code. You can use GitHub's changelog feature to host your project's changelog and share a chronological list of release notes internally with your team or publicly with your users. You can create custom categories and, as of recently, GitHub also makes it possible to generate release notes automatically. 
Despite those benefits, it lacks the user-friendliness and advanced features you get with most changelog tools like scheduling, custom branding, and in-app widgets. GitHub changelogs are usually stored as a text file, contain no images, and might feel confusing if you're not a developer.
2. Notion
Notion is a collaborative writing tool that provides templates for many different use cases, including one for changelogs. It gives you all the editing options to generate an aesthetically pleasing changelog. 
But your user engagement might suffer a bit due to the lack of an in-app widget. Besides that, Notion is a decent free option if you're diving into changelogs for the first time. 
How to Choose the Right Changelog Tool
Most changelog tools offer similar functionalities – as you see in the list above. We can't say which changelog tool is best for you. It all depends on your unique needs. Here are a few things to think about:
Functionality: It's about having the right features, not the most features.
Pricing: Look for both value for money and transparency. 
Design: Want your announcements to pop? Choose a changelog that comes with many customizable templates. 
User interface: It should make life easy for you and your users.
Customer support: Some have 'Help Center' pages, while others use an embedded chatbot. You should have access to active email or call support. Check out online reviews before deciding.
| | |
| --- | --- |
| Use Case | Recommended Changelog |
| Simple and easy-to-use changelog | Releaselog |
| Multiple functionalities | AnnounceKit  |
| Specialized for internal communication | ReleaseNotes |
Best options for different use cases
Of course, using a changelog tool is not the only way to go about marketing your product. If you want to dive deeper, read our complete guide on SaaS product marketing – there, we break down everything you need to know.
A weekly dose of insights to grow your SaaS.