Build a Sales Team with Steli Efti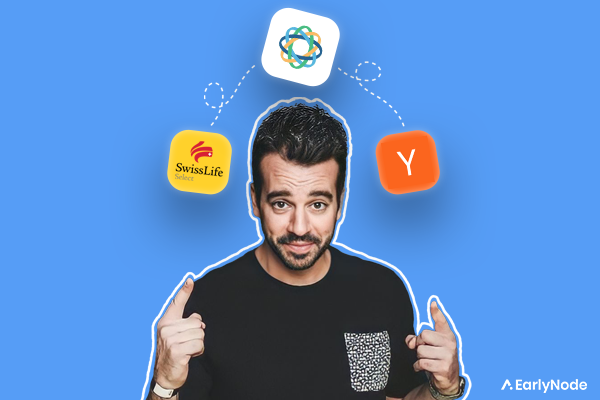 This week's veteran is Steli Efti. The YCombinator alum co-founded Elastic Sales, one of the first sales-as-a-service businesses, where they handled sales for over 100 startups.
While running Elastic Sales, Steli and his team built an internal tool to close even more deals for the startups they worked with as the CRMs out there didn't cut it. This tool would later become Close.com, which he bootstrapped to millions in revenue.
In The SaaS Operator newsletter from 23 May 2023, you'll learn:
How to hire incredible salespeople.
3 models for structuring your sales team.
Top tips to optimize your sales funnel and supercharge your sales.
---
The 3 sales organization models
According to Steli, there are 3 basic ways to organize your sales team. 👇🏼
🏝 Islands
Islands have no real organizational structure. Each sales rep is their own island. He does everything in the sales process: generating leads, following up, and closing deals.
Pros: Reps become specialists.
Cons: Very aggressive competition.
➡ Perfect for: established markets with very high competition like real estate but not ideal for startups 😕.
⛓ Assembly lines
In this model, you create specialized teams to handle each stage of the sales funnel. So there's a lead generation team, a prospecting team, account executives who close the deals, and a customer success team to ensure the customer is successful and stays longer.
Pros: Healthy competition within teams.
Cons: Little room to specialize with a small team size.
➡ Perfect for: startups looking to scale 😃.
​
🚀 Pods
Similar to assembly lines, but instead of large specialized teams for each stage, you create smaller groups called "pods". Each pod contains each kind of specialist role. It's great because everyone in the pod understands each other's jobs and works as a team to own the entire lifecycle of the customer.
Pros: Teams work smoothly and coherently.
Cons: Little room for growth due to less competition.
Perfect for: early-stage startups 🤩.
​
👨🏻‍💼 How to hire incredible salespeople
Sales teams need a delicate balance of healthy competition and teamwork. Demotivated reps and bad team chemistry can kill your sales while rockstar sellers can supercharge your growth.
Here are Steli's tips on hiring the right salespeople. 👇🏼
​
🎯 Sort the a**holes from the all-stars
Building a top-notch sales team starts with discovering those who will be a good culture fit and can consistently bring their A-game.
Steli uses Jack Welch's framework to sort candidates into one of these 4 quadrants.
1. The All-Stars: The first-choice candidates. They're not only talented, but they have the passion, drive, and the right attitude. Easy to spot, but expensive to hire.

2. The A**holes: These are tough to spot because they're actually good at the job. But their bad attitude and personality can destroy team culture and morale. Avoid these!

3. The Zero-fits: Easy to spot. They don't have the skills or talent. And worse, their attitude stinks.

4. The Underdogs: These don't yet have the skills but have the right attitude and potential to become one of your best guys. Be careful not to invest too heavily in them because it's a 50-50 risk. Cut your losses early if it's just not working.
​
Based on your interviews and practical tests with the candidates, you'll know who fits in each quadrant.
Now, it's time to evaluate candidates to see who checks the right boxes.
Step 1: Interview them
Steli believes in practical tests for salespeople, but those can take a while. Before you do that, filter out the top 10% of candidates first. Use Steli's 5 best interview questions to do just that:
1. Why do you want to work in sales? This question helps you learn what motivates and drives the person.
2. Why do you want to sell this particular product? This should tell you if they're thoughtful and whether their interest in the job is about more than their commission.
3. What do you know about our customers? Test whether they did their homework and understand the target audience.
4. Tell me the last time you took a big risk and it didn't pan out. This helps you check if they're risk-takers and can learn from their mistakes.
5. Last time you lost a deal, why do you think they said no? You want someone who's self-aware and able to analyze situations.
​
Step 2: Test them practically
Have your final shortlisted candidates pitch to everyone on the team, from the CTO to the intern. Observe how they perform under pressure.
Hire the most impressive candidates on a 6-month contract and give them around 90 days to see if they perform well consistently.
After that, you'll easily be able to separate good salespeople from great ones.
​
Now you have a superb team. But super sellers will only take you so far if you haven't perfected your sales funnel.
Supercharge your sales funnel
If you don't want to waste your time on bad leads, you need to optimize your sales funnel. These are Steli's best tips for doing just that:
⌚ Save time by better qualifying your leads
Without proper qualifying, you waste time and resources on leads that were always going nowhere. You can test if a lead is worth your while by:
1. Asking more questions. Salespeople often make the mistake of not asking enough clarifying questions and just assuming that they understand what the client is trying to achieve.
2. Being an active listener. When the client gives answers to your questions, listen for all the details in context. If it's still not clear, dig deeper with more questions, such as, "Why's that?" or "Can you tell me more about that?"
Once you've qualified your prospects and they're close to making a decision you need to master the art of closing. 👇🏼
❌ Don't waste time with long boring demos
If you're going to close a deal with a product demo, it's got to be one that sells.
That means:
Keep it brief: Don't show them every single feature. Long demos overwhelm prospects. 😓
Demonstrate value: Show the key value your product can provide to the prospect. 🌟
🤝🏻 End with the best closing question of all time
At the end of the demo, get the client to make a decision. Don't waste time here. Simply ask them this question: "What is it going to take to get this deal done?"
It helps to create a win-win situation. If the client is convinced, he'll tell you what to do to close the deal. If he's not, you will know immediately that the deal is dead so you can quickly move on.
Who should we cover next? If you have a SaaS expert in mind, let us know by sending us an email at saas@earlynode.com.
A weekly dose of insights to grow your SaaS.