15+ ChatGPT Prompts for Creative Directors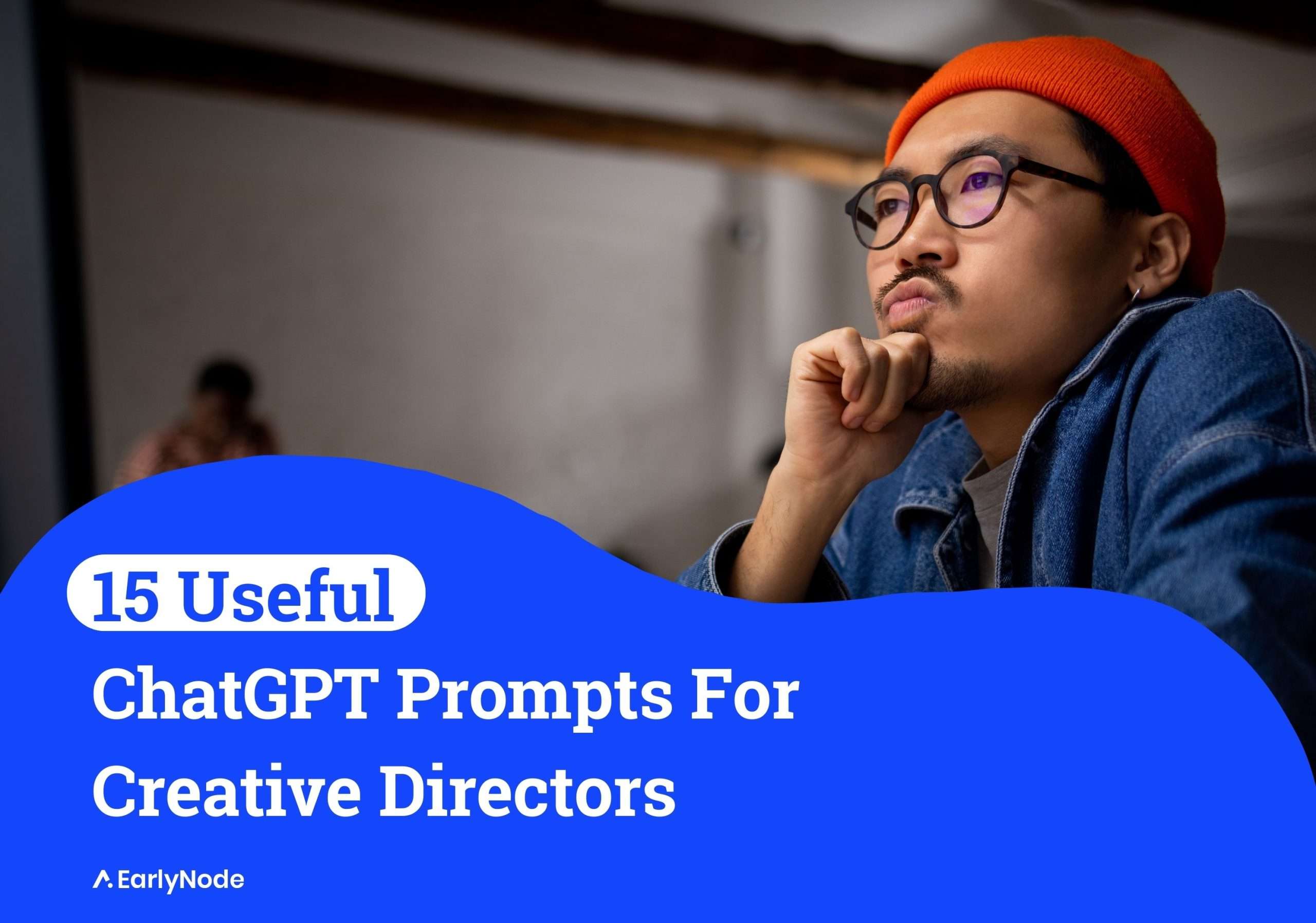 In the fast-paced world of advertising and design, Creative Directors are always on the lookout for innovative solutions to streamline their workflows and elevate creativity. With the introduction of ChatGPT, the scope of collaboration has expanded beyond human minds. This article gives you customized prompts to optimize a Creative Director's tasks with ChatGPT.
20 ChatGPT Prompts for Creative Directors
1. Copywriting Suggestions: "Generate headline options for a campaign targeting [specific audience] about [product or service]."
2. Concept Feedback: "Review the following concept idea for [product/service]: [brief description]. How can it be improved or streamlined?"
3. Mood Boards: "Describe the latest visual design trends suitable for a [type of campaign, e.g., 'youth-oriented sneaker launch']."
4. Storyboard Ideas: "Provide a basic storyboard layout for a [duration, e.g., '30-second'] commercial about [product/service]."
5. Client Communication: "How can I convey [specific feedback or concern] to a client in a constructive and tactful manner?"
6. Pitch Preparation: "What potential questions might a client ask about a campaign focusing on [specific theme or topic]? And how can we address them?"
7. Brand Voice Development: "Define a brand tone and style for a company that [specific company characteristics, e.g., 'produces eco-friendly products for millennials']."
8. Cultural Relevance: "Provide insights on the cultural nuances of [specific region/country] relevant for an ad campaign about [product/service]."
9. Typography Suggestions: "Recommend typeface combinations suitable for a [specific theme or mood, e.g., 'luxurious fashion brand']."
10. Color Psychology: "What colors evoke [specific emotion, e.g., 'trust and reliability'] in design, and how can they be effectively used in a campaign?"
11. Script Polishing: "Review the following script for potential improvements: [insert script excerpt]."
12. Print Layout Ideas: "Suggest innovative layout designs suitable for a [type of print material, e.g., 'tri-fold brochure'] for [product/service]."
13. Competitor Analysis: "Analyze the creative strategies used by competitors in the [specific industry or sector] and highlight key takeaways."
14. Event Ideas: "Propose unique event concepts for the launch of [specific product/service] targeting [specific audience]."
15. Music and Sound: "Recommend soundtracks or sound effects that would complement a [specific mood or theme, e.g., 'nostalgic summer ad']."
16. Interactive Ideas: "How can we integrate interactive elements like AR into a campaign promoting [product/service] for [specific audience]?"
17. Latest Tech Insights: "Update me on the latest advancements in [specific technology domain, e.g., 'animation techniques'] relevant for creative projects."
18. Diversity & Inclusion: "Review this [content type, e.g., 'video script'] and suggest ways to make it more diverse and inclusive."
19. User Experience: "Provide suggestions on enhancing the user experience of this [specific digital platform or campaign, e.g., 'landing page'] based on the provided design."
20. Inspiration: "Share innovative or award-winning campaigns from the [specific industry or theme, e.g., 'sustainability sector'] from the past year."
Conclusion
The prompts above have been carefully selected to bridge the gap between AI and human creativity. With these at hand, Creative Directors can tap into ChatGPT's immense potential to revolutionize the creative field.
Design Service for SaaS Marketing Teams
DailyDesign.io is a one-stop design solution for SaaS marketing teams, offering a monthly subscription for unlimited design tasks. With a swift turnaround of less than 48 hours, it caters to various design needs including ad creatives, social media content, web design, and more. The process is streamlined from briefing to downloading the final designs, giving you a hassle-free experience.
A weekly dose of insights to grow your SaaS.