15 Helpful ChatGPT Prompts for Email Marketing managers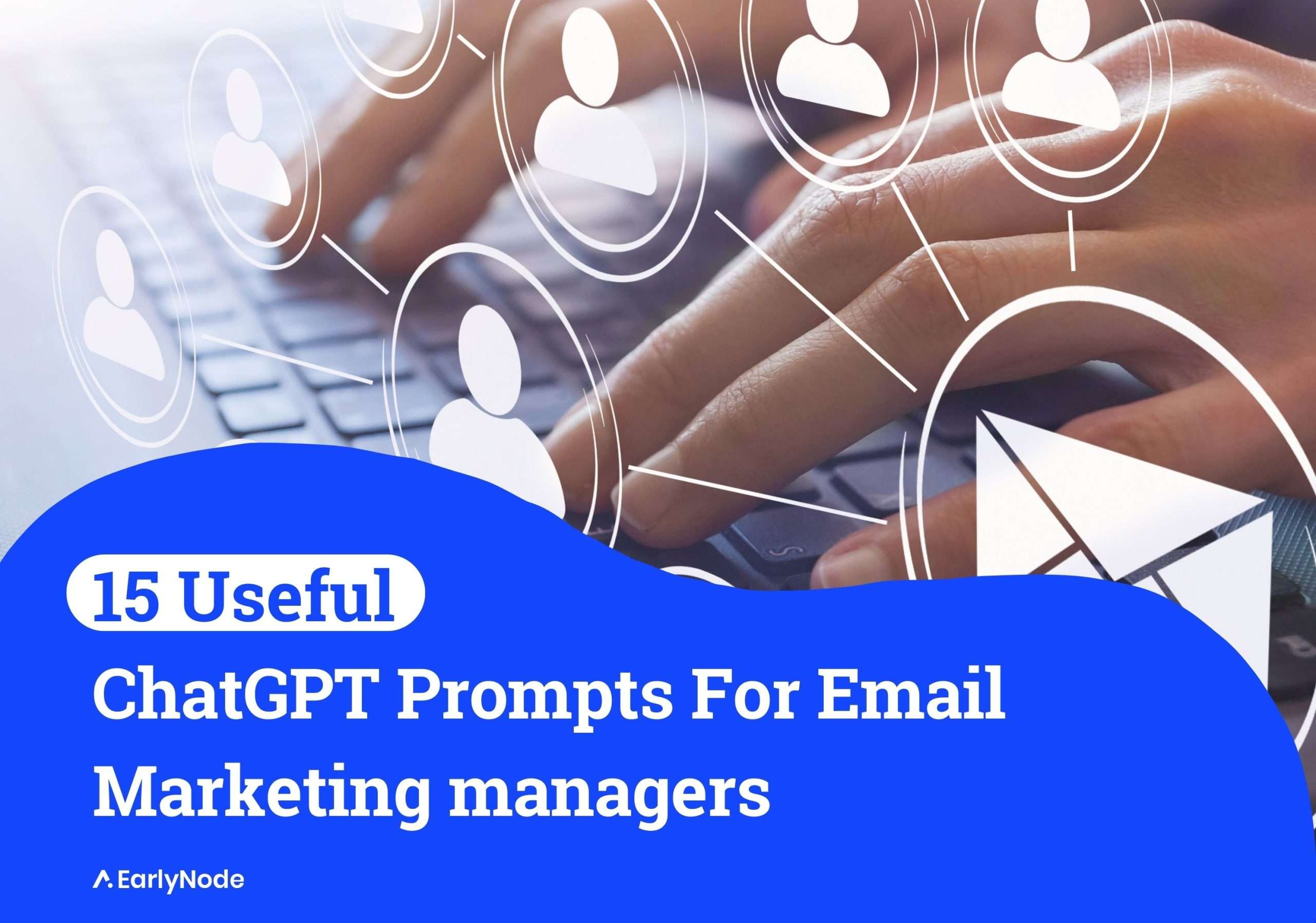 In today's digital scene, email marketing remains a go-to channel for businesses wanting to engage with their audience. But let's be real, creating a killer email campaign is a juggling act—from catchy subject lines to writing a compelling message. 
Thankfully advanced AI tools like ChatGPT can help lighten the load. Dive into this article as we break down how to use ChatGPT prompts to level up your email marketing campaigns.
ChatGPT Prompts for Email Marketing Managers
1. Crafting Compelling Subject Lines: "Provide me with five compelling subject lines for an email about [specific topic or offer]."
2. A/B Testing for Impact: "What are some effective A/B test variables for an email promoting [specific product or content]? Provide reasons for each."
3. Leveling Up Personalization: "Offer strategies to enhance personalization in emails for a target audience of [specific demographic or interest group]."
4. Mastering Email Copywriting: "Draft an engaging email body to introduce [specific product/offer/event] to our subscribers."
5. Strategic List Segmentation: "Based on data about subscribers' [specific behavior or preference], how should I segment my email list for targeted campaigns?"
6. Ensuring Responsive Design: "Evaluate this email design snippet: [insert design/code here]. Is it responsive across various devices? Any suggestions?"
7. Optimizing Calls to Action: "Suggest compelling call-to-action phrases for an email promoting [specific product or action]."
8. Maintaining List Hygiene: "How can I best maintain the hygiene of my email list with a current size of [number of subscribers] and an average inactivity rate of [specific percentage]?"
9. Crafting Automated Workflows: "Propose a sequence for an automated email campaign for [specific customer journey stage, e.g., 'new subscribers', 'cart abandoners']." 
10. Decoding Data Trends: "Here are my recent email metrics: [insert metrics here]. Can you explain any notable trends or anomalies?"
11. Determining Email Frequency: "Given feedback from [specific subscriber group or segment], how often should I send promotional/content emails?"
12. Finding the Best Time to Engage: "Analyze this data on open rates by time of day: [insert data]. When's the optimal time to send emails to maximize engagement?"
13. Staying Legally Compliant: "For emails being sent to [specific country or region], what are the key GDPR/CAN-SPAM regulations I should keep in mind?"
14. Perfecting Email Templates: "Review this email template: [insert template details]. Are there any elements that can be optimized for better performance?"
15. Localizing Content Effectively: "Provide insights into cultural nuances or local holidays for [specific country] that might influence email content or scheduling."
16. Generating Fresh Campaign Ideas: "I'm planning an email campaign for [specific season or event]. What are some fresh content ideas or themes?"
17. Leveraging Tools and Integrations: "Considering I'm using [specific email platform], are there any tools or integrations you'd recommend to enhance its capabilities?"
18. Boosting Email Engagement: "Suggest tactics to boost engagement for an upcoming email about [specific topic or event]."
19. Ensuring Landing Page Consistency: "Evaluate this landing page linked in our email campaign: [insert landing page URL]. Are there consistency issues or areas for conversion optimization?"
20. Managing Email Campaign Mishaps: "We made an error in our recent email about [specific topic]. How can we address and rectify this with our subscribers?"
Conclusion
When done right, email marketing can be a powerhouse in a business's digital game plan. Throw ChatGPT and the right prompts into the mix, and you've got the recipe to supercharge those campaigns, guaranteeing more reach, clicks, and conversions. These AI prompts can give your email marketing the boost it needs, making sure you stand out in the competitive digital space.
A weekly dose of insights to grow your SaaS.