15+ Powerful ChatGPT Prompts for Brand Managers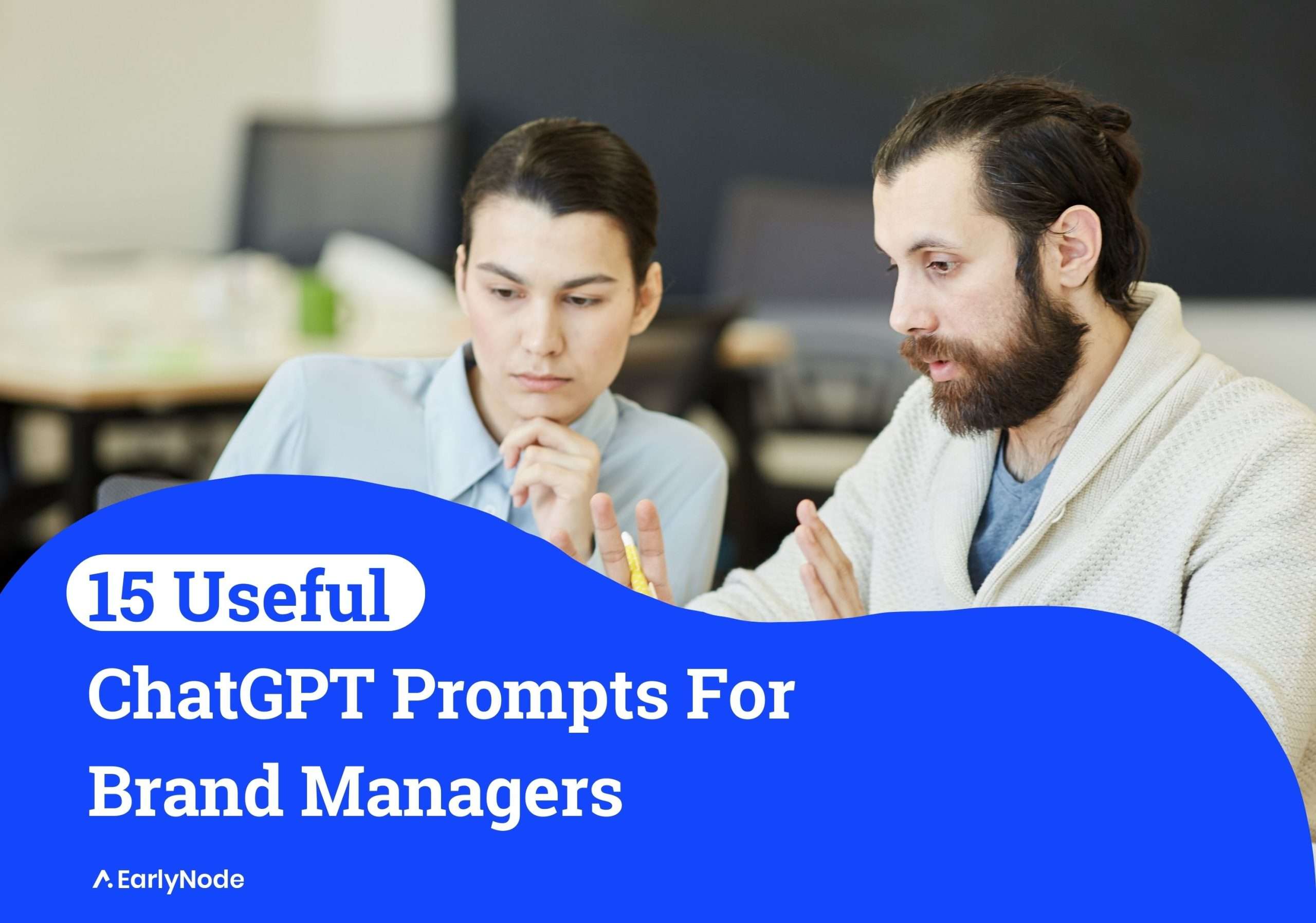 ChatGPT is a crazy-good resource that can pump up your creative juices, make your day-to-day tasks a breeze, and really refine your brand strategy. So here is a gold mine of ChatGPT prompts that we've put together. Each one is crafted to help Brand managers navigate the complex world of brand management.
20 ChatGPT Prompts to Revolutionize Brand Management
1. Crafting Compelling Campaign Taglines:
   "Generate a series of 5 creative taglines for a [product/service] targeting [demographic], emphasizing [unique selling point]."
2. Refining the Brand Voice:
   "Define key adjectives for a brand voice that's [characteristics], with examples applied to customer interactions."
3. Deciphering Competitive Strategies:
   "Summarize [competitors'] marketing strategies on [platforms], focusing on [campaign/time period]."
4. Analyzing Consumer Feedback:
   "Identify common themes in customer feedback for our [product/service] and suggest improvements."
5. Strategizing Content with Current Trends:
   "Suggest 10 blog post topics for [industry] that engage [audience] and reinforce [market position]."
6. Templating Social Media Interactions:
   "Create social media response templates for scenarios like customer complaints or positive reviews that convey [brand traits]."
7. Optimizing for Search Engines:
   "Identify top 10 SEO keywords for our upcoming [product/service] page."
8. Personalizing Email Campaigns:
   "Template for personalized emails for [segment], incorporating purchase history and product suggestions."
9. Innovating Product Names:
   "List 10 product names for [product type] that reflect [brand values] for [target audience]."
10. Weaving Brand Stories:
   "Outline a brand storytelling framework for [key message] involving [customer pain point] and [solution]."
11. Navigating PR Crises:
   "Draft a crisis communication statement for [crisis], focusing on empathy and resolution commitment."
12. Enhancing Marketing Copy:
   "Rewrite this marketing copy to increase persuasive power while maintaining a [brand voice]: [copy]."
13. Identifying Cross-promotional Opportunities:
   "Suggest 5 partners for cross-promotion that align with our [brand values]."
14. Conceiving Trade Show Messages:
   "Develop key messages for a trade show that convey [unique selling proposition] to [audience]."
15. Proposing Influencer Collaborations:
   "Draft an influencer collaboration proposal for [identity], targeting [demographic]."
16. Creating Packaging Narratives:
   "Write packaging copy for [product] that communicates [benefits] to [audience], in a [voice]."
17. Designing Loyalty Programs:
   "Propose a loyalty program structure for [line] that encourages repeat purchases and advocacy for [audience]."
18. Formulating Brand Audit Checklists:
   "Create a checklist for a brand audit covering online presence, perception, consistency, and positioning."
19. Guiding Visual Content Creation:
   "Suggest visual content types that best convey [values/themes] across platforms like Instagram and Facebook."
20. Strategizing for International Markets:
   "Outline considerations for a brand strategy in [country], considering cultural nuances and channels."
Conclusion
These curated ChatGPT prompts are tools to lace your brand strategies with some real cutting-edge innovation. In the end, the brilliance of a brand isn't just in the story it tells but in sparking meaningful conversations. With these ChatGPT prompts, Brand Managers can create those conversations and build engagement with greater harmony and impact than ever before.
A weekly dose of insights to grow your SaaS.