CloudDevs Alternatives, Reviews, Pricing, and More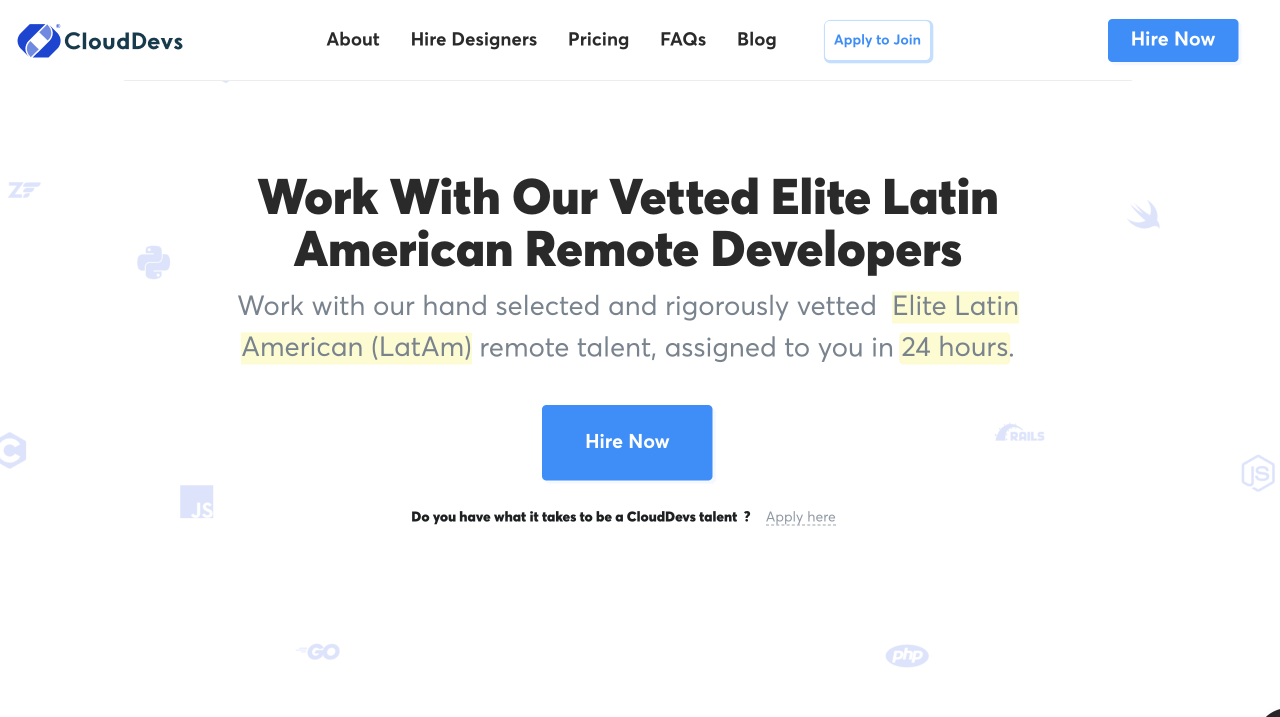 What is CloudDevs?
CloudDevs is a platform where you can hire pre-vetted software developers and designers from Latin America. Hiring a developer locally is a headache. The CloudDevs platform was designed to save startups 50% – 60% in hiring time and cost compared to hiring in the US. 
The platform boasts 8,000+ freelancers. One of the things that sets them apart from other freelance platforms is that they not only source and screen developers, but also monitor and evaluate their performance after they're hired.
How does CloudDevs work?
Their 4-step process is designed to find and match software developers to clients within 24 to 48 hours. Here's how it works:
Step 1. You make the first call or send an email to share your requirements.
Step 2. CloudDevs matches you with 1 or 2 shortlisted candidates within 24 to 48 hours.
Step 3. You hop on a call with your candidates to determine who's the right fit for you.
Step 4. Once you find the right candidate for your project, you can start with their 14-day risk-free trial.
CloudDevs' monitoring and evaluation services start during the trial period.
Note: During the trial period, you can test the skills of your developer and if you are not satisfied, you can request a replacement or cancel the contract altogether. 
Who's CloudDevs for?
The majority of their clients are small firms operated by the founding teams. They've also worked with bigger businesses and companies who just raised their first $100,000. If your business falls into any of these categories, CloudDevs could be a good fit.
CloudDevs Fees
Developer rates on CloudDevs vary based on experience, expertise, location, and market demands. Generally, rates are between $45 and $70 per hour. In addition to these developer fees, you must make a security deposit of $500 before you can activate your 14-day free trial. There are no other service fees. 
CloudDevs Pros & Cons
| | |
| --- | --- |
| Pros | Cons |
| Affordable Hourly rates. | Relatively small talent pool for a platform with multiple programming languages. |
| Matches a fitting, available candidate with your project. | Matching can be slow for projects with less common tech stacks. |
| Good for Javascript, Python, Ruby on Rails, Java, and Swift. | Not ideal for React and Node.Js. |
| It's fast. Matching usually takes less than 24 hours after the initial call.  | You need to make a security deposit of $500 before the project can start. |
| Secure payment system. | |
| Access to quality vetted developers.  | |
CloudDevs FAQs 
1. Any upfront fees?
Yes. You must pay a security deposit of $500 before starting your 14-day free trial.
2. Which technologies are common?
JavaScript, Python, Ruby on Rails, Java, and Swift.
3. Do developers speak English?
Yes.
4. What is the Hourly rate for developer services?
Rates start at $45-$70/hour.
5. Can you request a tech interview, live coding, or test task?
Yes.
6. What if I don't like my developer?
You may contact Customer support for a replacement.
7. Can you ask for a refund?
Yes.
Real CloudDevs User Reviews
At the time of writing, CloudDevs has a total of 103 reviews on Trustpilot. Ninety-eight percent of them are positive. Here's what users have to say. 

There are only 2 negative reviews of CloudDevs available on Trustpilot; one calling them out as a scam and the other shared below. CloudDevs has responded to the scam allegations. You can read more about that here.
What are the Best Alternatives to CloudDevs?
Although CloudDevs looks like a pretty decent platform for hiring freelance software developers, you may be limited by their relatively small pool of talent compared to other platforms. If you are looking to increase your chances of hiring more experienced developers at reasonable prices, there are a few options available:
ReactSquad.io
Lemon.io
Toptal
Turing
Hourly Rate
$80
$45 – $85
$60 – $250
$70 – $200
Upfront costs?
No
Yes. Equivalent to 1 week's cost of the project. 
Yes. $500. 
Can be refunded if you decide not to move forward.
No.
How fast can you hire?
Up to 24 hours
Up to 48 hours
Up to 3 weeks
Up to 5 business days
Can they provide a team?
Yes
No
Yes
Yes
Specialized Frameworks?
React; Next.js
No
No
No
Can you request a tech interview, live coding, or test task?
Yes
Yes
Yes
Yes
What is the best alternative to CloudDevs?
| | | |
| --- | --- | --- |
| Use Case | Option 1 | Option 2 |
| You need a product launched in record time | ReactSquad.io | Turing |
| You want to hire ASAP | ReactSquad.io | Lemon.io |
| You want the option to hire for the long term | Turing | ReactSquad.io |
| You want senior developers with 5+ years of experience | ReactSquad.io | Toptal |
| You need great quality at a lower price | Lemon.io | ReactSquad.io |
| You want to hire a team | ReactSquad.io | Turing |
| You want to hire from anywhere | Toptal | Turing |
Conclusion
CloudDevs' speedy matching service is their strongest selling point. They're also pretty affordable and their vetting process cuts your chances of landing a disappointing hire. The biggest drawback of the platform is their relatively small pool of developers. That might be a problem if you're looking for someone specialized. 
If you are growing fast and need a React developer to build features fast, you should consider a specialist. ReactSquad.io is a specialist agency that 'lends' in-house React engineers to fast-paced startups so that you can have a developer embedded in their team, shipping code in less than 7 days.
A weekly dose of insights to grow your SaaS.