Devler.io Reviews and Alternatives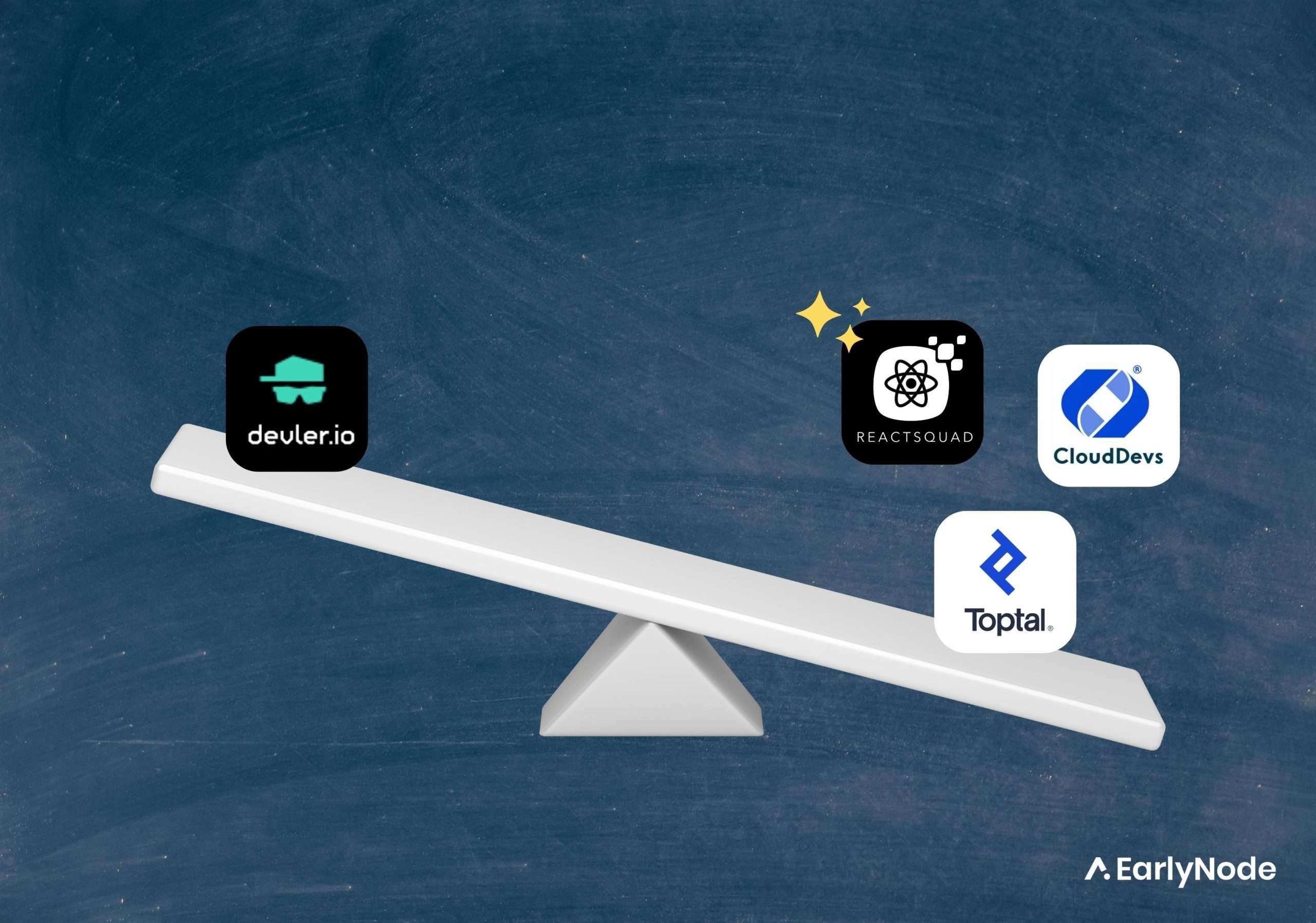 What is Devler.io ?
Devler.io is a platform run by passionate engineers from Ukraine. The company o provides online pre-vetted developers from Eastern Europe on demand.
Here are some unique features of Devler.io: 
Devler.io is an exclusive marketplace for software developers.
Devler.io acts as a personal assistant to save you from any potential risks.
You're matched with a pre-vetted developer as per your project requirements.
How Does Devler.io work?
Devler connects you with verified developers through 5 simple steps:
You set up a meeting through their calendar or fill a form available on the website.
A manager at Devler will contact you and discuss your project details.
Devler will work on finding the candidates with the skills you need for the project.
You will be notified about the shortlisted developers and have an opportunity to interview them.
You are all set to work with the developer after selecting the right one.
Pros & Cons of Devler.io as a Client
| | |
| --- | --- |
| Pros | Cons |
| No hidden charges – rates vary from $35-$75 with a 7-12% commission | Minimum number of work hours is 80 |
| Strict developer vetting process | Devler's developers are only from EasternEurope – thus fewer options to choose from |
| Range of tech stacks: Ruby, React, Angular, Node js, Swift, Python,.Net | Devler works by a pre-paid model |
| All developers go through the English examination process | No explicit trial period or satisfaction guarantee |
| Both full-time and part-time employment are available – and you only pay for the hours worked | |
Other Questions
| | |
| --- | --- |
| FAQs | Answers |
| How much commission do I pay? | 7-12% of the developer's invoice is charged |
| Is Devler.io an open platform? | No |
| What are the hourly rates? | $35 – $70 |
| Does the platform offer English-speaking developers? | Yes, all developers have good English-speaking skills |
| How long does it take for the developer to get started? | It depends on your requirements and the developer availability – but overall it'll take less than 2 days to get done with all legal and admin-based tasks.  |
| Common technologies at Devler? | Ruby, React, Angular, Node js, Swift, Python,.Net |
| Is it possible to hire a developer directly? | Yes, you can hire a developer after a one-year contract on the platform. |
| What if I'm not satisfied with the developer? Is there any guarantee or refund? | There is no explicit quality guarantee stated. You can contact customer service to resolve your issue. |
Client Fees
Devler charges a 7-12% commission depending on the charges of the freelancer. The higher the pay rate of the developer, the lesser commission you'll pay. 
The developer's hourly rate is usually between $35 and $70 depending on the candidate's skill level.

Devler uses a prepaid system for clients. You will be sent an invoice each month, for the following month and Devler acts as a middleman between the client and the developer.
Who is The Founder and Where is Devler Located?
Devler was founded in 2022 by Yuriy Dobrianskiy while the company is located in Ukraine and the United States. 
Now you know how Devler.io works, and the pricing strategy it uses. Now let's talk about its reviews
Devler Reviews
Since Devler is fairly new to the market, there is limited information on what customers say about it. Although, some websites such as Techreviewer rate the company highly giving the platform 4 stars out of 5. 🔽
Who is Devler.io for?
If you are looking for a smooth way to hire verified developers in Eastern Europe who are proficient in Ruby on Rails, React, Angular, NodeJS, Swift, Python, and .Net, then Devler is the right platform for you!
But in case your project requires engineers specialized in certain programming languages or in different locations, you may need to look for alternatives to Devler.
What are the Best Alternatives to Devler.io?
Devler.io is a reliable source for getting qualified developers for your project – but if you want to hire developers from other regions other than Eastern Europe, you can consider others in the space. 
Here are a few good alternatives to Devler.io which provide a similar service:
Comparison of Devler alternatives
| | | | | |
| --- | --- | --- | --- | --- |
| | ReactSquad | Devler.io | Toptal | Clouddevs |
| Hourly rates | $45-$80 | $35-$70 | $100 – $250  | $40 – $70  |
| Upfront cost | No | No | Yes. $500 deposit that is refundable till the 2-week risk-free trial. | Yes. $500 deposit that is refundable till the 7-day risk-free trial. |
| Hiring time | Within 24 hours | A few days | 3 weeks | Within 24 hours |
| Can they provide a team of developers? | Yes | No | Yes | No |
| Can you interview the candidates before hiring? | Yes | Yes | Yes | Yes |
| Free Trial | Yes | Yes | Yes | Yes |
Top Devler.io Alternatives
| | | |
| --- | --- | --- |
| Use cases | Option 1 | Option 2 |
| You need to hire ASAP | ReactSquad | Clouddevs |
| You need a global outreach of developers | Toptal | – |
| You need a team of developers | ReactSquad | Toptal |
| You need good quality at a reasonable price | Devler | ReactSquad |
| You need specialised React: NextJS developers | ReactSquad | – |
| You want to work on a long-term basis with the developer | Devler | ReactSquad |
| You need senior developers | Toptal | ReactSquad |
Summary
Devler is a great platform for connecting you with qualified developers from Eastern Europe. The platform has a rigorous vetting process for selecting quality talent and claims to provide a developer within a few days. However, you might want to consider alternatives if you want to hire a developer from elsewhere and aren't looking to pay upfront.
In case you want specialized React-based developers, you can consider ReactSquad.io – an expert React agency that provides in-house React engineers to fast-growing startups. You'll be able to start shipping code within 7 days too. If that sounds interesting to you, you can reach out to us at ReactSquad.io.
A weekly dose of insights to grow your SaaS.