Founderpath – Review, Alternatives, and more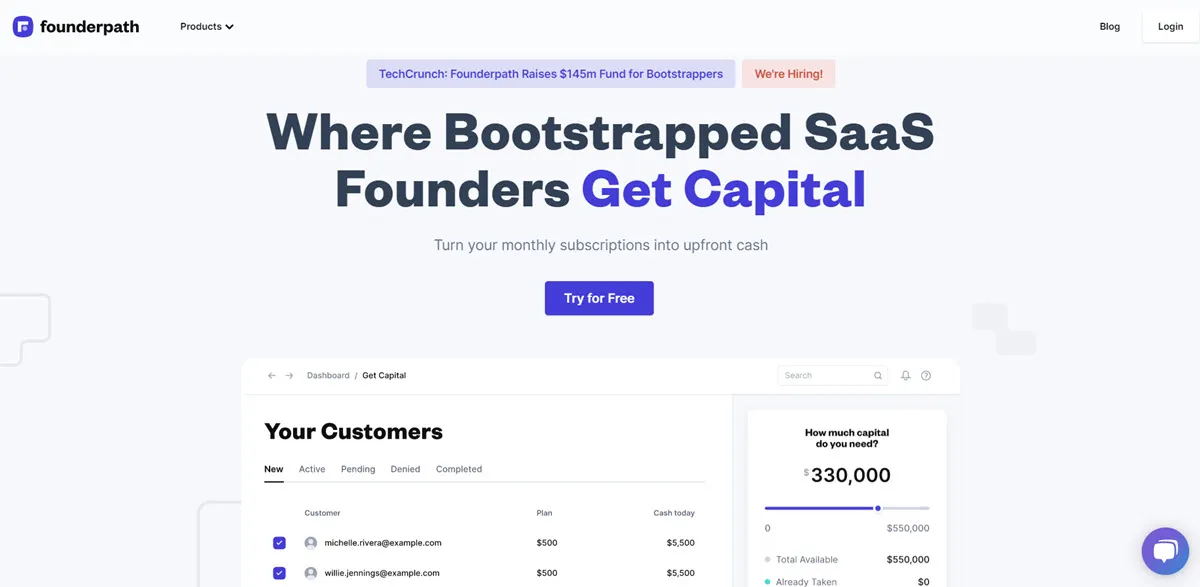 What is Founderpath?
Founderpath is an online lending platform based in Austin, Texas, providing bootstrapped SaaS businesses dilution-free capital as a loan using their MRR as a proxy for how much loan they can access. Nathan Latka founded it in 2020 as a way for bootstrapped SaaS founders to access money without selling equity. 
You're probably wondering how Founderpath works and whether it's a good fit for you. Or what other alternatives can you consider? Read this blog to find all your answers.
How does Founderpath work?
Founderpath promises to make access to funds simpler and faster. It allows founders to take up to 50% of their ARR advance in cash. 
You can get this in 3 simple steps: 
You'll integrate your subscription system, such as Stripe or Paddle, with their system. 
Founderpath will analyze the strength of your company and generate your Founderpath Score, the equivalent of a credit score.
Based on your Score, Founderpath will send you an offer within 5 minutes. A higher score means access to better terms and more capital. 
So how exactly do they calculate your Founderpath Score? Their experts can predict how long your customers will likely remain subscribers based on your churn rate history. 
What are the terms and conditions for taking the non-dilutive capital?
They claim to be the only company that gives founders more than a year to pay back, with discounts as low as 7%. And you have the option to pay back your loan early without attracting any extra fees or penalties! 
The full terms available include the following: 
Take up to 50% of your ARR in upfront cash today. 
Get up to 48-month payback periods with no prepayment penalties and no fees 
Access to capital at a low discount rate of just 7%.
Still have 100% control of your company.
How fast can you access funds from Founderpath?
As fast as within 24 hours! That's their recorded fastest deal to date. Their longest time took roughly 9 days. Once they have a clear picture of your startup's finances, Founderpath sends you an offer within minutes. Once you accept the offer, they'll wire the money into your bank account immediately, which should typically reflect in less than 24 hours. So in effect, the speed of the deal depends on you. 
Is Founderpath legit?
Yes, in addition to our online research we also talked to SaaS founders who used Founderpath, one of them even used the cash infusion more than once.
Here are a couple of facts about Founderpath, basically a background check: 
For starters, the founder. Nathan Latka is a popular name in the SaaS space with a decent reputation. We don't think he'd set up a scam to ruin the good name he's worked so hard to build. 
Secondly, they've got legit backing. Just two months ago, Founderpath secured 145 million in debt and equity financing from some top SaaS founders, including Henry Schuck (ZoomInfo founder) and Giles Palmer, founder of Brandwatch (acquired for $450m), in a round led by Coromandel Capital, Forbright Bank, and Singh Capital Partners. We doubt these investors would throw away that sum of money without doing their homework. 
Thirdly, they have a good track record. Since its launch in 2020, Founderpath has successfully given over $60 million in capital to over 100 SaaS founders. Their website claims they have the capacity to "deploy over $200m in 2022 and work with partners who can unlock up to $1b for us to support all SaaS founders." 
Who can approach Founderpath?
SaaS founders, especially B2B. They form Founderpath's most extensive customer base. You can still apply even if you're not based in the USA. The company says they've done deals with businesses outside the USA. They're available in most South American, European, and Asian countries.
Aside from this, though, they target startups that are within specific criteria. Your startup should be hitting at least $10,000 in MRR. Companies that successfully get the loans usually do between $1 million and $5 million in ARR. Because the average deal size is $500k, they're not interested in startups doing $10 million ARR and above. They know such founders have better options out there. They want to help as many SaaS founders as possible to hit $10m in revenue and keep 100% control of their companies. So they'll instead opt to deal with 1,000 founders at an average deal size of $500k.
Our checklist below is a guideline to help you decide if you're a fit: 
| | |
| --- | --- |
| Who can apply? | SaaS founders, mostly B2B  |
| Eligible Regions | USA, Canada, South America, Europe, Asia |
| ARR to qualify | $120k – $5 million |
| Do I need a good credit score to be eligible? | No, they don't check founders' or team members' personal credit scores. |
Who are Founderpath's competitors?
Founderpath has three prominent competitors: Pipe, Stripe Capital, and Capchase.
Pipe is an online marketplace that connects companies with predictable, recurring revenue to investors. 
Stripe Capital is Stripe's financial services product which provides interest-free loans to businesses. Then they repay automatically over a period with a percentage of their sales. 
Capchase was founded in 2020 and has made over $1.2 billion in funding available to founders. They're backed by top investors such as Bling Capital and QED Investors. 
But Founderpath is confident it can compete because of the flexible terms it offers its customers.
Here's a comparison table to help you consider your options:
Founderpath
Stripe Capital
Pipe
Capchase
Who can apply?
SaaS
Businesses that use Stripe for transactions.
– SaaS- D2C – M&A- General businesses
SaaS 
Signup cost
None
None
None
None
Eligible regions
North America, Europe, Asia, South America
USA only
-US, Canada & UK-Outside US/UK, but must have a subsidiary in US/UK
N/A
Qualification criteria
– Have processed payments on Stripe for at least 6 months.
-Transaction volume of 5,000 USD minimum per year.
– Large customer base (number undefined)
N/A
N/A
How fast can I get the cash?
Typically within 24 hours.
1 – 2 business days
Typically within 24 hours
N/A
Terms & Conditionsafter capital/loan
-No extra or hidden fees
-Early repayment available (free)
-Payback up to 48 months max
-8% discount rate
-No extra or hidden fees
-Pay back loan + flat fee-Stripe deducts a percentage of funds from your sales as repayment
-Early repayment available (free)
-Minimum monthly repayment amount (varies)
-Payback up to 18 months max
-Collateral required for loans above $150k
N/A
Credit score required?
No
No
No
N/A
Interest Rate
No interest rate
No interest rate
N/A
Trustpilot Rating
4.8
3.3 (based on parent company)
N/A
N/A
Founderpath compared with alternatives
*N/A =  We sadly couldn't gather that info. As soon as we have concrete info, we'll update this page.
Conclusion
Raising funds is one of any startup's biggest hurdles. You can go down the VC route but you'd sometimes have to settle for unfavorable terms and lengthy procedures. Founderpath claims to be a better alternative to the VC funding route. They're supporting founders looking to scale without losing control of their companies. Their terms seem a bit too generous, but we've had founders testify that they're legit. Ultimately do your due diligence to see if Founderpath will be a good fit for your vision and growth objectives before approaching. Best of luck!
A weekly dose of insights to grow your SaaS.