Lemon.io Alternatives, Review, and more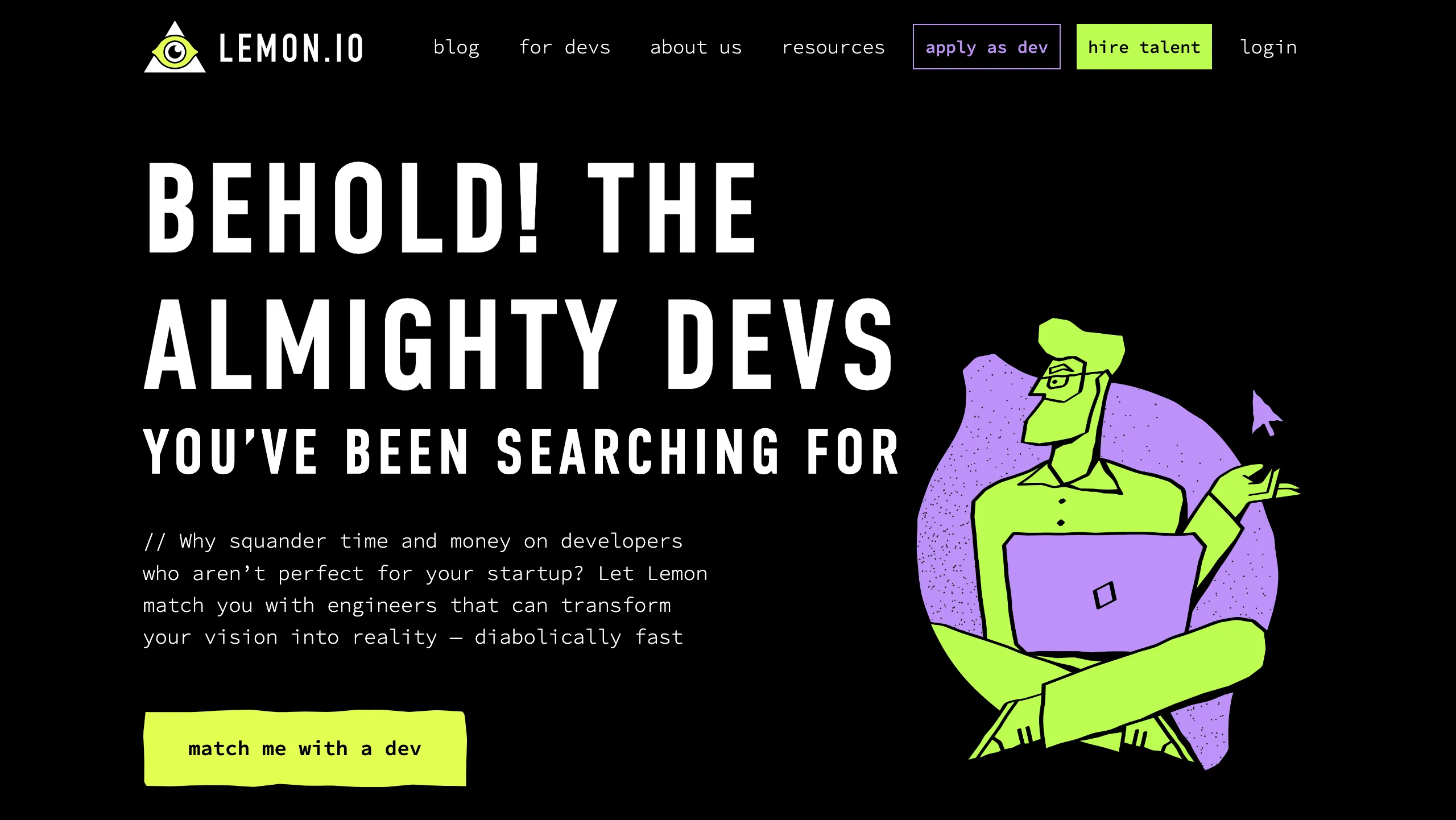 What is Lemon.io?
Lemon.io is an online platform for hiring vetted freelance developers. The freelance marketplace is saturated, but Lemon.io stands out in two ways: 
By prioritizing speed. They claim to match you with a quality developer for your project within 24 hours. 
Quality assurance because of their strict vetting process. 
Lemon.io's developers are mainly located in Eastern Europe. 
How Lemon.io works
Lemon works by connecting startups with experienced developers with the skills to take on their projects. 
You make first contact by filling out a request form. 
A Sales Representative will reach out to you to discuss your project needs. 
Lemon.io will match you with a developer from their database with the skills you need. 
You can now chat directly with the developer to see if they're what you need. 
Once you're okay with the candidate and approve them, you must agree to make a 'security' deposit, and commit to at least 160 hours of work, before your project can begin. 
Lemon.io Pros & Cons
| | |
| --- | --- |
| Pros | Cons |
| Hourly rates between $45 – $85 | Relatively small talent pool for a platform with multiple programming languages |
| Matches a fitting, available candidate with your project. | Matching can be slow for projects with less common tech stacks. |
| Good for: Javascript, Python, Ruby on Rails, Java, and Swift | Not ideal for: React, Node.Js |
| It's fast. Matching usually takes less than 24 hours after the initial call.  | You need to make a 'security' deposit before the project can start. |
| Secure payment system | |
| Access to quality vetted developers.  | |
Other Questions
| | |
| --- | --- |
| FAQs | Answers |
| Any upfront fees? | Sort of. You must agree to pay a 'security deposit' right before the agreed start of the project. The deposit is equivalent to a week's fee for the project. |
| Which technologies are common? | Javascript, Python, Ruby on Rails, Java, and Swift |
| Any minimum duration for a project? | You must commit to at least 160 hours of work |
| Do developers speak English? | Yes  |
| Hourly rate | Rates start at $45-$85/hour |
| Can you request a tech interview, live coding, or test task? | Yes |
| What if I don't like my developer? | You may contact Customer support for a replacement |
| Can you ask for a refund? | Yes |
Who is Lemon.io for?
Their most typical clients are startups who use Javascript, Python, Ruby On Rails, Java, and Swift languages. If your project requires a different tech stack, your chances of getting a good developer are slim; better to look elsewhere.
Client Fees
There is no fixed fee for a project. But Lemon developers typically charge between $40-$85 an hour depending on their experience and technology. See their rates below:
You must make a first deposit, (which is about a week's fee for your project) before your project begins. From there, you're charged weekly until your project ends.
Real Lemon.io User Reviews
So we know how Lemon works, but what experiences have users had, and what do they say about it? 
Good Client Reviews
When it comes to getting quality talent, Lemon is reliable. Shows that their strict vetting works.  
This customer enjoyed his onboarding process at Lemon.io. 
Bad Client Reviews
Lemon's limited talent pool can cost you with wrong matchups
For a platform that acts as the perfect matchmaker between founders and developers, they sometimes get it wrong. These customers were unimpressed:
Lemon.io's customer support needs some support
Lemon learned the hard way that customers hate poor customer service. 
Who is the founder?
Lemon.io was co-founded in 2015 by Aleksandr Volodarsky and Vasyl Dzesa in Ukraine. Anvar Azizov later joined in 2018 as the 3rd co-founder.  
Lemon was born from Alek's side hustle, Coding Ninjas, which worked the same way Lemon works now. Alex revealed in a podcast that he killed Coding Ninjas because the idea was too difficult to scale. He pivoted and rebranded to Lemon.io.
Funding and Financials
Lemon.io's last funding round was a seed round led by GrowthUP in January 2016 for $60k. 
The company's GMV in 2021 was $7 million, missing out on their target of $10m. GMV stands for Gross Merchandise Value, a commonly used metric by SaaS marketplace businesses. Their 2021 revenue was about $1.7 million. 
Where is Lemon located?
Lemon.io is based in Kyiv, Ukraine. But the company says they currently collaborate with developers in over 40 countries. 
What are the best alternatives to Lemon.io?
Lemon.io is a good choice if you want a variety of tech stacks to choose from. But that means sacrificing quality sometimes. There are cases where Lemon has swapped developers because clients weren't impressed with the first one. There are good alternatives to get you exactly what you want:
How do the alternatives compare?
ReactSquad.io
Lemon.io
Toptal
Turing
Hourly Rate
$80
$45 – $85
$60 – $250
$70 – $200
Upfront costs?
No. 
Yes. Equivalent to 1 week's cost of the project. 
Can be refunded after end of project.
Yes. $500. 
Can be refunded if you decide not to move forward.
No.
How fast can you hire
Up to 24 hours
Up to 48 hours
Up to 3 weeks
Up to 5 business days
Can they provide a team?
Yes
No
Yes
Yes
Specialised Frameworks?
React; NextJS
Any
Any
Any
Can you request a tech interview, live coding, or test task?
Yes
Yes
Yes
Yes
Which is the best alternative to Lemon.io?
| | | |
| --- | --- | --- |
| Use Case | Option 1 | Option 2 |
| You need a product launched in record time | ReactSquad | Turing |
| You want to hire ASAP | ReactSquad | Lemon.io |
| You want the option to hire for the long term | Turing | ReactSquad |
| You want senior developers with 5+ years of experience | ReactSquad | Toptal |
| You need great quality at a lower price | Lemon.io | ReactSquad |
| You want to hire a team | ReactSquad | Turing |
| You want to hire from anywhere | Toptal | Turing |
Conclusion
Lemon.io is definitely legit. Their manual matchmaking and strong vetting process give you quality developers for your projects at competitive pricing most of the time. But like most generalist freelance sites, you're not guaranteed quality every time, especially for rare programs. 
If you are growing fast and speed is important, you should consider a specialist. ReactSquad.io is a specialist agency that 'lends' in-house React engineers to fast-paced startups so that they get a developer embedded in their team, shipping code in < 7 days.
A weekly dose of insights to grow your SaaS.