Level Up Your Product Marketing Game with These Essential Reads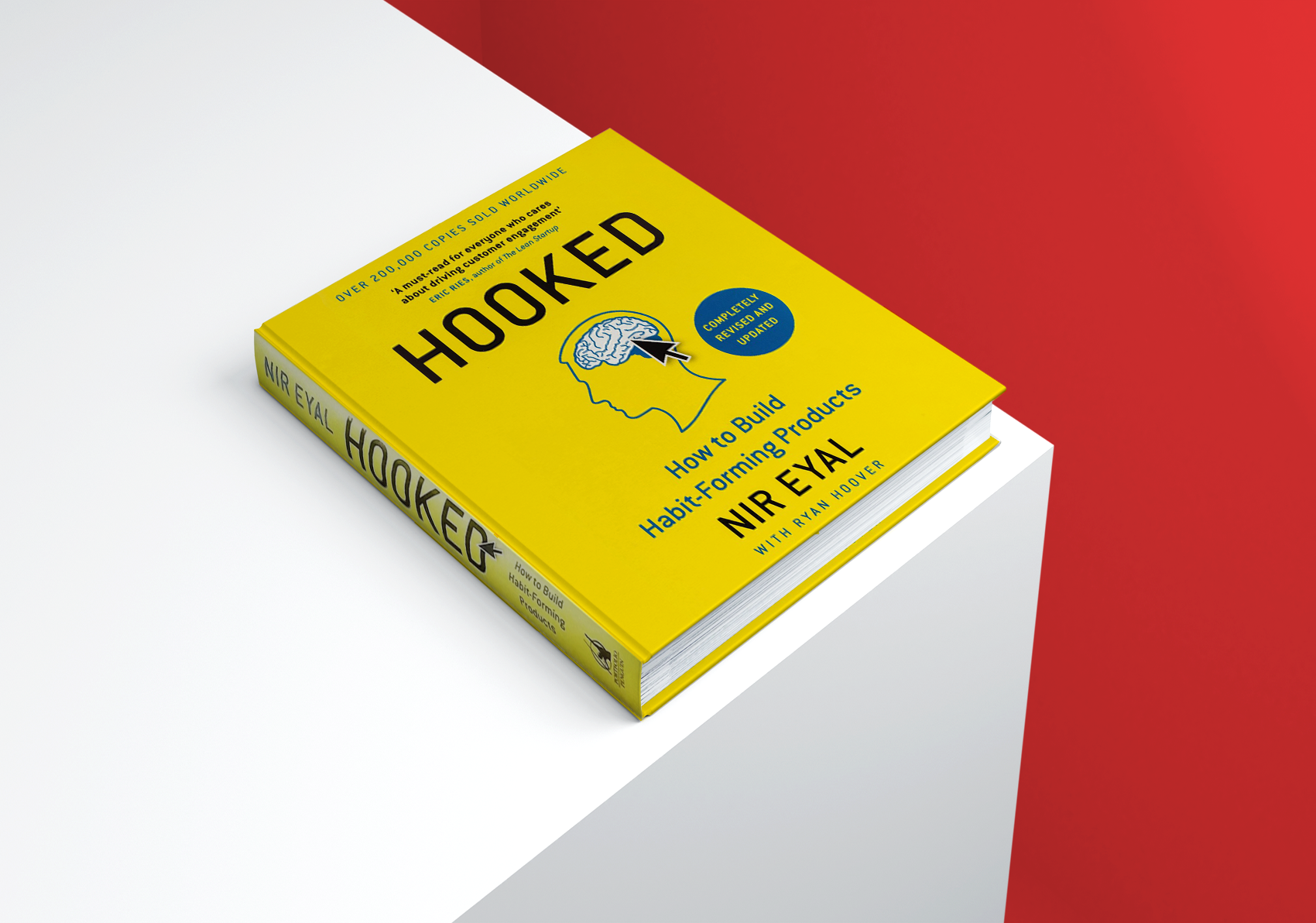 When it comes to SaaS product marketing, recommending books as a reliable resource can be challenging due to the industry's ever-evolving and creative nature.
However, with rapid innovation, it becomes even more important to learn continuously.
As a product marketer, staying on top of the necessary skills is crucial. This is where books on product marketing can provide valuable insights and strategies for navigating this constantly shifting landscape of SaaS product marketing.
With the seemingly endless list of skills required to thrive in product marketing, reading the right books can help you stay informed and equipped to tackle new challenges with confidence.
Here are the 12 must-read books on SaaS product marketing:
1. Hooked: How to Build Habit-Forming Products
You absolutely need to read this book if you're a product marketer. Understanding what makes your product valuable to customers and how to guide them in discovering that value is vital for a product marketer. 
This book offers insights that go beyond just product design, which is now closely linked to product marketing.
Especially for SaaS products, where multiple target customer groups are served, it's the responsibility of product marketers to help these groups discover how the product solves their problems.
Nir Eyal uses excellent examples such as iPhone, Twitter, and Pinterest to illustrate how they successfully "hooked" their users.
Reading this book will help you learn how to create appealing "hook cycles" to engage users effectively without overspending on advertising.
2. Contagious: Why Things Catch On
Contagious is a book that dives deep into the science behind why certain products, ideas, and content stick, while others do not.
The author, Jonah Berger, is a marketing professor at Wharton who has spent years studying why people talk about some things more than others, why certain rumors and stories spread faster, and what makes online content go viral.
Berger's research has uncovered six basic principles that drive contagiousness, which can be applied to various things, from consumer products to workplace rumors to YouTube videos.
In this book, he provides actionable techniques for designing messages, advertisements, and content that people will share.
Berger's work challenges the conventional belief that advertising is the key to popularity.
Instead, he reveals that people listen to their peers more than ads. He also explains how social influence shapes everything, from the products we buy to the names we give our children.
Contagious is a must-read for marketers who want to attract end-users online because of valuable insights on how to harness word-of-mouth and social popularity for the successful marketing of any product or idea.
3. Crossing the Chasm: Marketing and Selling Disruptive Products to Mainstream Customers
Crossing the Chasm: Marketing and Selling Disruptive Products to Mainstream Customers" is a must-read for SaaS product marketers looking to successfully bring their cutting-edge products to a larger market.
Geoffrey A. Moore's book presents a clear understanding of the Technology Adoption Life Cycle.
It outlines the different types of buyers, from innovators to laggards, and the challenges in crossing the chasm between early adopters and the early majority.
Moore's revised third edition is specifically focused on high-tech products and provides new insights and strategies for marketing in the digital world. With various analogies and examples of successful and failed companies, this edition is up-to-date with the latest developments in the industry.
Additionally, the book features two new appendices.
One of which connects the ideas in Crossing the Chasm to Moore's subsequent work in Inside the Tornado.
While the other presents groundbreaking work on technology adoption models for high-tech consumer markets.
Overall, "Crossing the Chasm" provides a comprehensive blueprint for SaaS product marketers to determine their target audience, communicate effectively with them, and ultimately accelerate adoption across every segment.
4. INSPIRED: How to Create Tech Products Customers Love.
INSPIRED by Marty Cagan is a total must-read for anyone involved in product marketing or development.
This book goes beyond marketing strategies and delves into the heart of product development, teaching readers how to build effective and proactive teams that consistently listen to customers, utilize their feedback, and create products that they will continue to love.
With real-world examples from some of the most successful tech companies, such as Amazon, Google, and Netflix, INSPIRED provides a master class on how to structure and staff a vibrant and successful product organization.
It teaches readers how to discover and deliver technology products that customers will love, while also working for their business.
Whether you're an early-stage startup or a large, long-established company, INSPIRED is the best read recommended for your product marketers.
It's a comprehensive guide that will help you design, build, and scale products that customers can't get enough of.
4. Value Proposition Design: How to Create Products and Services Customers Want
Value Proposition Design is a highly practical book that offers a solution to one of the core challenges facing businesses today – creating products and services that customers truly desire.
Written by the authors of the international bestseller, Business Model Generation, this book teaches readers the processes and tools necessary to design, test, create, and manage products that sell.
This book is perfect for anyone who is frustrated by product meetings based on intuition and hunches or has watched an expensive product launch fail in the market. By understanding the patterns of great value propositions, you can avoid wasting time on ideas that won't work.
Overall, Value Proposition Design is an indispensable guide for anyone looking to create products and services that customers can't resist.
5. Product-Led Growth: How to Build a Product That Sells Itself
If you're in the SaaS industry, you've probably heard of product-led growth, but do you really know what it means and how to execute it successfully?
"Product-Led Growth: How to Build a Product That Sells Itself" by Wes Bush, founder of the Product-Led Institute, is an essential read for anyone looking to scale their SaaS business.
With a focus on reducing acquisition costs and maximizing customer lifetime value, Bush covers everything from launching a free trial in just 24 hours to avoiding the mistakes that can "kill your growth and set you up for long-term failure."
The book is filled with actionable advice and real-life examples from industry giants, making it a must-read for anyone looking to take their SaaS business to the next level.
From building a sustainable growth process to stopping paying customers from slipping away, this book covers it all.
If you're tired of following the same old SaaS playbook and want to see real results, "Product-Led Growth" is the book for you.
With the knowledge and insights gained from this book, you'll be able to turn your product into the tool that helps you acquire, convert, and retain customers, and ultimately build a product that sells itself.
6. Start at the End: How to Build Products That Create Change
Start at the End by Matt Wallaert is a compelling book that challenges the traditional product-building framework by proposing a new approach to creating products that drive behavior change.
The author argues that successful companies must focus on what people want and why they are not already doing it. This bridges the gap between consumer behavior and product design.
Backed by extensive research and real-life examples, this book provides a guide for adopting this new methodology. By starting with outcomes rather than processes, the most effective companies can understand people's needs and build products and services that cater to them.
Wallaert is an experienced behavioral psychologist who has led product design at several organizations. His resume includes Microsoft and Clover Health.
And he expertly dissects the success of companies like Uber and Flamin' Hot Cheetos to highlight how this approach can lead to more meaningful and impactful products.
With clarity and humor, Wallaert presents a compelling argument for why companies must shift their focus from marketing to driving engagement towards creating products that genuinely meet people's needs and drive positive change.
7. Obviously Awesome: How to Nail Product Positioning so Customers Get It, Buy It, Love It.
In the business of selling products, it's utterly important to connect with your customers. And just because you believe your product is amazing doesn't mean your audience will feel the same way.
That's where April Dunford's book, "Obviously Awesome: How to Nail Product Positioning so Customers Get It, Buy It, Love It," comes in.
Dunford, a seasoned tech executive, and positioning expert shares her wealth of knowledge on how to successfully position your product in the market. This book will revolutionize the way you approach product positioning.
Dunford shows you how to uncover your product's unique selling points, and how to communicate those points effectively to your target customers.
With years of experience in product launches and consulting, Dunford's book is full of practical advice that you can apply to your own business. The book is also peppered with entertaining anecdotes and insightful case studies that illustrate Dunford's points.
Whether you're an entrepreneur, marketer, or salesperson, Dunford's advice will help you discover your product's "secret sauce," so you can create a loyal following of customers who get it, buy it, and love it.
8. Four Steps to the Epiphany: Successful Strategies for Products that Win
The Four Steps to the Epiphany is a must-read for every product marketer looking to launch a successful product.
The book's four-step customer development process offers practical and proven strategies for searching for and uncovering flaws in product and business plans. It ensures that you correct them before they become costly.
This book follows a Lean Startup approach. Teaching you how to coincide customer and product development, which is essential for growing your user base while improving your product.
If you're starting a new venture or looking to improve your existing one, this book is essential reading. It's no wonder that this bestselling classic has launched 10,000 startups and new corporate ventures – it's one of the most influential and practical business books of all time.
9. To Sell Is Human: The Surprising Truth About Moving Others
"To Sell Is Human: The Surprising Truth About Moving Others" is a book that addresses the common fear and discomfort that many people have with sales.
The author, Daniel H. Pink, argues that everyone is a salesperson and provides practical tips on how to approach sales in an authentic, natural way that benefits both parties.
Pink emphasizes the importance of understanding the perspective of the other party, communicating clearly, and identifying and solving their challenges. He encourages readers to believe in what they are selling and provides a fresh perspective on the art of sales.
To Sell is Human is a great resource for anyone looking to improve their sales skills and mindset.
And it also provides a valuable framework for approaching sales in a way that is effective and authentic.
10. Made to Stick: Why some ideas survive and others die.
"Made to Stick: Why some ideas survive and others die" by Chip Heath and Dan Heath is a must-read for product marketers seeking to create compelling narratives that resonate with their audience.
The authors delve into the psychology behind what makes ideas "sticky" and provide a practical guide to crafting stories that stick in product sales.
The book emphasizes the importance of storytelling in today's competitive market and offers a fresh perspective on creating narratives that separate your brand from others. The authors introduce the concept of "curiosity gaps" and how to use them to make ideas more memorable and engaging.
They also explain how to avoid common pitfalls that can hinder the success of a marketing campaign.
The authors also provide a framework for evaluating the "stickiness" of your own ideas and improving them over time.
Overall, "Made to Stick" is a valuable resource for any product marketer looking to create memorable and effective marketing campaigns. The book's insights into the psychology of ideas and practical guidance for crafting compelling stories make it a must-read for anyone in the industry.
11. Influence: The Psychology of Persuasion, Revised Edition
For any product marketer struggling to achieve their sales targets, "Influence: The Psychology of Persuasion" by Dr. Cialdini is a must-read.
In this book, Cialdini breaks down the principles of persuasion into actionable steps that are easy to understand and apply to various sales media, such as emails and calls. The author emphasizes the importance of grabbing a customer's attention within seconds.
By revisiting these basics of persuasion, you can create a more direct sales process and effectively communicate the value of your products to the target audience.
Overall, "Influence" is a must-read for anyone looking to double down on sales strategy and use the psychology of persuasion in everyday marketing.
12. Marketing Rebellion: The Most Human Company Wins 
Marketing Rebellion by Mark Schaefer provides a refreshing take on marketing in a rapidly changing world.
By tracing cataclysmic consumer trends to a century-old revolution, Schaefer highlights the need for businesses to focus on human impressions over advertising impressions. He presents five constant human truths that form the foundation of a successful marketing strategy.
He emphasizes the importance of customer loyalty and the role of satisfied customers in driving business results.
With inspiring case studies and actionable steps, this book challenges conventional marketing wisdom and offers a blueprint for businesses of all sizes to stay ahead of the curve.
Marketing Rebellion is a must-read for anyone seeking to reimagine marketing in a world where hyper-empowered consumers demand a more human approach.
Final Thoughts
While much of SaaS product marketing is best learned when you're in the field, there is also great value in reflecting on the experiences and lessons of others.
The ever-changing SaaS product world also requires constant observation and action to keep up, and studying successful marketing strategies and tactics can provide valuable insights and help you avoid costly mistakes.
We hope that the books on this list will offer a wealth of knowledge and inspiration to you and anyone looking to excel in product marketing. So pick up a book, learn from the experts, and keep growing as a product marketer!
A weekly dose of insights to grow your SaaS.