10 Best SaaS User Engagement Tools for 2023 [The Complete Toolstack]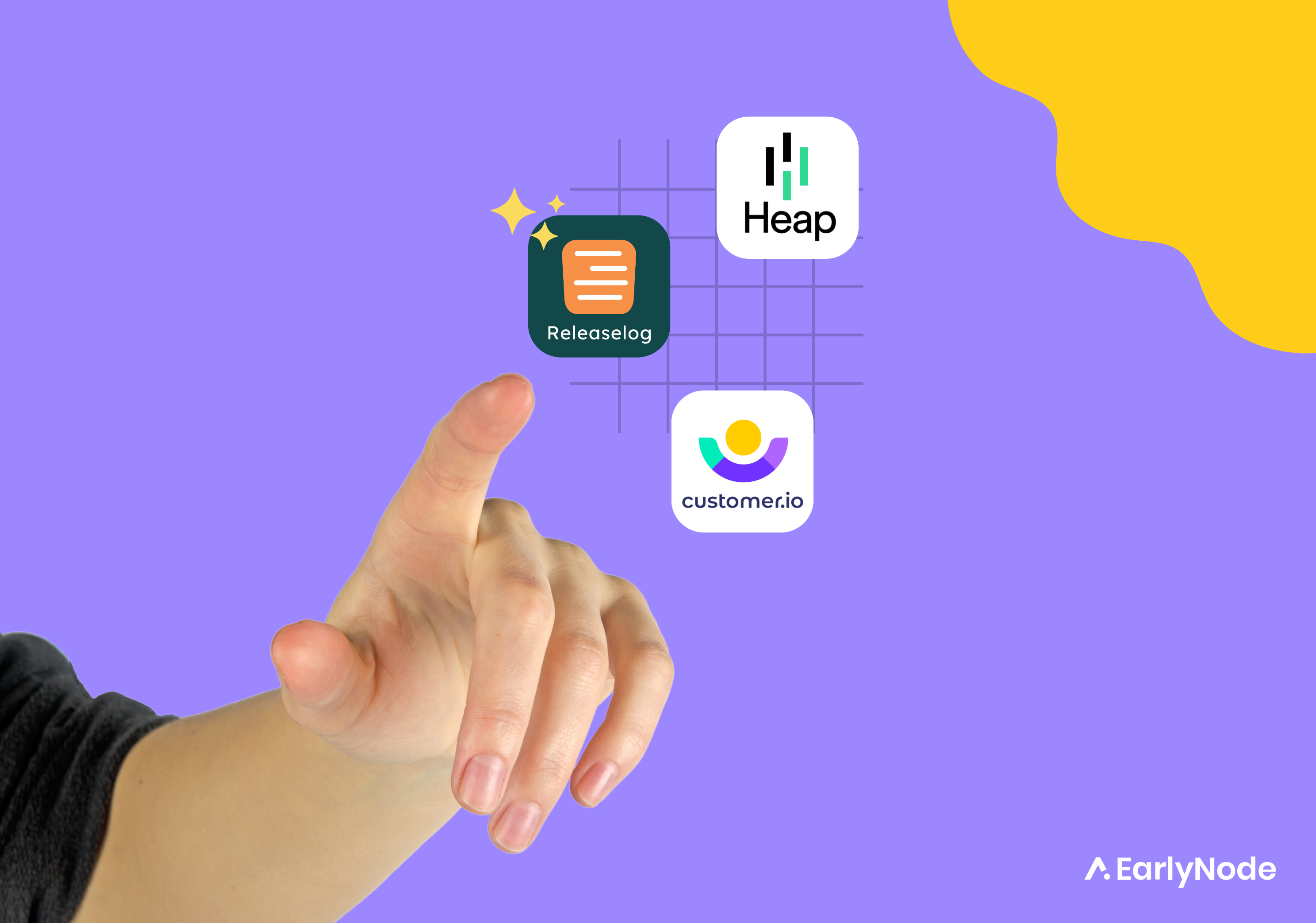 When it comes to engaging with your users, email just doesn't cut it. With average SaaS emails open rate of 20%, you're missing out on a lot if you aren't using a multi-channel approach.
A good engagement strategy involves user analytics, feedback collection, and effective communication. These components make sure you're onboarding, upgrading, and retaining every viable lead.
Sound time-consuming? Don't worry. You can automate most of these with the right tools. And we've compiled the 10 best user engagement tools for SaaS, their features and benefits along with prices.
Best SaaS User Engagement Tools
Communication is one of the important aspects of having a successful SaaS product. ReleaseLog helps you keep users engaged in two ways. First, by creating a changelog where you can share all updates about your product with users. Secondly, it provides a way to communicate with users inside your app via an in-app widget.
Instead of spending so much time building their own in-app notifications feature, SaaS founders are relying on tools like ReleaseLog to automate this process.
Features
Create a standalone changelog page
Powerful customization options
In-app widget for changelog feed
Benefits
ReleaseLog is 100% focused on B2B SaaS companies. You can share updates with users and keep them engaged. It takes less than 5 minutes to install and start using ReleaseLog.
Price
ReleaseLog starts at $25 per month if you subscribe annually. 
Heap is one of the best tools for analyzing user insights for your product. It captures and interprets in-app user interactions like clicks, page views, gestures, form submissions, etc.
Features 
Automatic capture of all user data 
Full Session replays for complete understanding
User segmentation
Visual labelling for better organization
Integrate with multiple 3rd party apps
Benefits
You can set up Heap easily without coding. After setup, you can easily gather user data from multiple sources and generate useful reports such as infographics, heat maps, and more. Plus you can easily integrate with your favorite apps and tools.
Price
Customer.io is a good tool for SaaS marketers who want more control and flexibility when creating and sending data-driven emails, push notifications, in-app messages, and SMS. 
Features
Their APIs allow you to integrate with your database to import contacts faster.
You can import data from third-party platforms such as Segment, mParticle, Hull, RudderStack, or Zapier
You can sync your audience segments with your ad network
The visual workflow builder
Mobile-friendliness 
push and in-app notification functions
Provides real-time data
Benefits
Importing data takes just a few clicks. The segmentation engine allows you to target specific audiences. Plus with the data from audience segments and profile attributes, you can run some cool retargeting ads. The visual workflow builder helps you create a strategy for your messaging campaigns.
Price
Drift helps businesses, especially sales teams, connect with their customers using chatbots.
Features
The AI-powered chatbot.
Live chat
3rd party integrations
Schedule meetings with your calendar directly within the chatbot
Get real-time notifications of users when they login
Chat in multiple languages
Benefits
Drift helps you interact with your customers on a deeper level and increases the chances of conversion. With their real-time notifications feature, you can quickly engage users via live chat when they log into your app. Customer answers are added to their profiles, making it easy for your support team to have access to a customer's chat history with your team.
Price
Like Heap, Pendo is one of the best product analytics tools available. There's little coding required to get things running and you can get a lot of insight in minutes. You can also measure different segments and compare different types of users. But unlike Heap, you don't have access to real-time data as it is delayed by 1 hour.
Features
Track Events enables you to collect information about all completed user actions 
The feedback function allows users to submit feature requests
Audience Segmentation feature
In-app guides
Benefits
With Pendo's funnel analysis you can track whether users are following the intended journey or they are doing something else and identify friction points to solve.
Price
Pendo's prices are available on request only. 
Userlist is an automation tool for sending SaaS users email and in-app messages based on their actions. It's great for onboarding new users and supporting them as they progress through onboarding. You can also see who your users are, segment them, and see what they're doing.
Features
Set up automated email campaigns triggered by user behavior.
User Management tool: track customer profiles and their activities.
Customer segmentation.
In-app messages
Multiple 3rd party integrations
Built-in templates for faster use
Benefits
Userlist integrates with over 10+ 3rd party tools including Slack and Zapier. It allows you to onboard company accounts (teams), and not just individual users. You can track user behavior, segment users, send behavior-based emails and in-app messages, and much more.
Price
Basic plan starts from $149 a month for 5 seats. You can access up to 10,000 users. 
Hotjar is another web analytics tool that helps you get quality feedback through surveys and also offers insight to understand your customers' in-app behavior.
Features
Heat maps – see where users click when they are logged in to your product.
Session recordings-  see a full recording of a user's interaction with your product.
Feedback portals –  collect ideas from your customers directly.
Benefits
Hotjar provides a visual and direct way to understand what your users are doing with your product so you can take meaningful actions to keep them coming back.
Price
Hotjar's pricing isn't straightforward. Their paid plans are product-specific. The Heatmaps product ranges from $39 to $213 a month. If you want the feedback product, be prepared to cough up $59 a month for the Plus plan or $79 for the higher one. But they do offer a free plan for both products though. 
Typeform is a platform you can use to create user-friendly surveys or forms without writing a single line of code. It is designed to make surveys less boring by making it look like real conversations.
Features
The 'Logic jumps' feature helps you adapt the survey to a user's answers.
Premium themes and templates for more customization.
Multiple integrations.
Benefits
Their conversational and personalized approach makes it easy to engage users and increases the response rate. The drag-and-drop feature makes it easy to create interactive forms quickly. The best part is you don't need any coding skills.
Price
You can get Typeform's Basic plan for $25 a month, but if you want more customization options, like your custom domain, opt for the $50 per month Plus plan.
Mixpanel is similar to Heap and Hotjar. The difference is that you can analyze the data with simple, interactive reports that let you query and visualize the data with just a few clicks.
Features
Compatible with several third-party apps
Customizable dashboard
Interactive Reports that can visualize your data
A/B testing
Benefits
The mobile app is convenient and user-friendly. Aside that, one major benefit is that Mixpanel data engine helps you optimize and improve your sales funnel. There are also real-time alerts to help you spot negative trends before it's too late. 
Price
Mixpanel's free version gives you quite a lot of features for any startup. But if you're ready to scale or looking for just a bit more, go for the Growth plan. It'll set you back $20 a month.
Productboard is a workflow and analytics tool that helps product teams work together to understand what customers need and help bring the right products to market quickly. Customer-centric enterprises, such as Zendesk, UiPath, Avast, and Envoy, use Productboard to understand what users need, prioritize which businesses to build, and bring everyone together around their roadmap.
Features
Roadmaps feature for building strategic, interactive live roadmaps.
Feature Prioritization solution to build the right features using informed data.
Feedback collection system
Engage your customer community to validate ideas.
Integrates with multiple 3rd party tools.
Benefits
This tool gives product teams everything they need to figure out what users want, decide on the next thing to make, keep everyone on the same page with the plan, and chat with their customers. Productboard is a breeze to use, gets everybody working together, and fits right into how you already do things.
Price
A weekly dose of insights to grow your SaaS.