Roles and responsibilities of product marketing managers vs product managers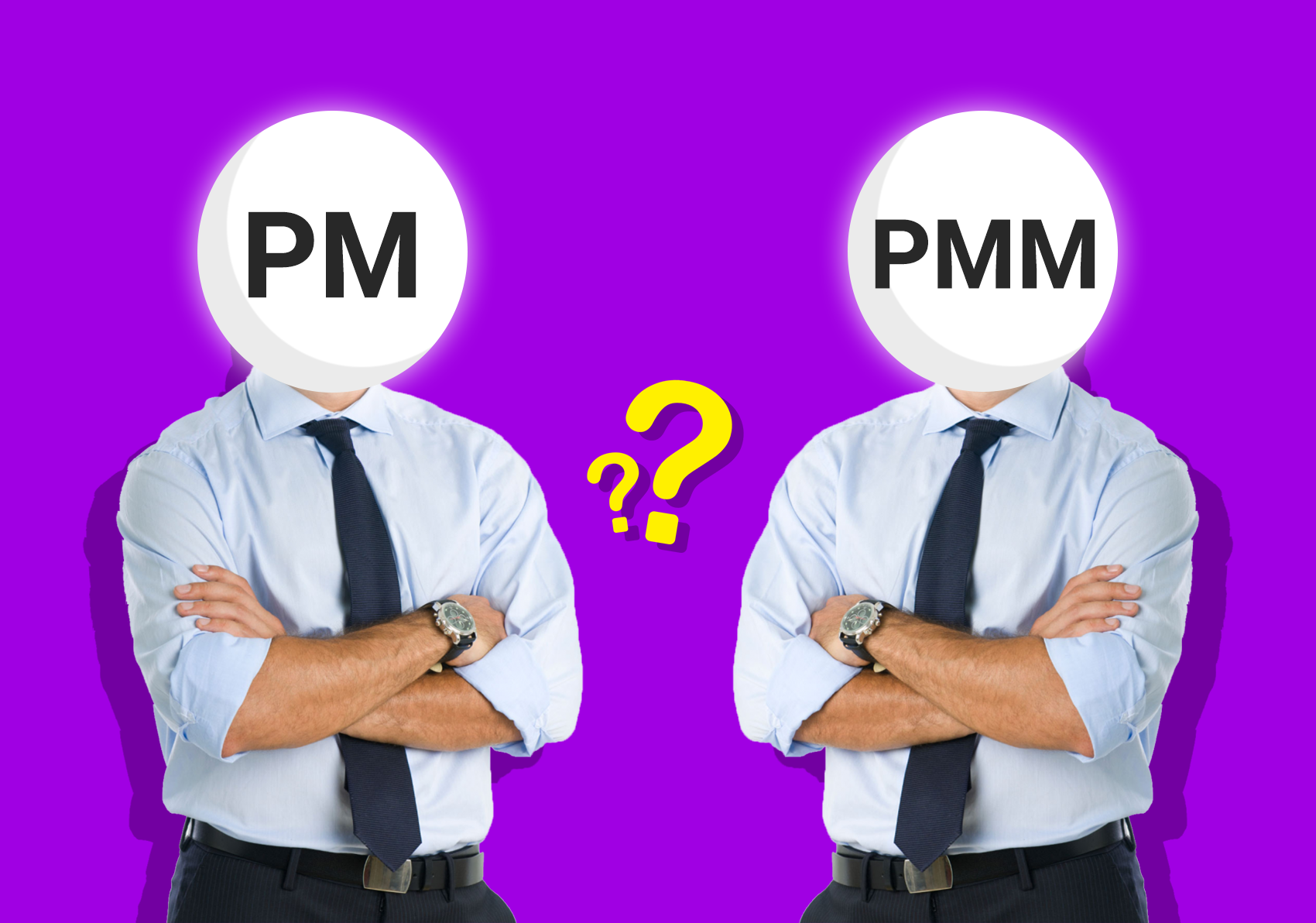 TL;DR
A product manager oversees the whole product's lifecycle – from planning to building it. He also prioritizes the new features and updates to add to the product and which ones should be changed or removed.
The product marketing manager obsesses over the product's ideal customers. He'll usually plan and execute strategies that will bring the product to market. 
Both roles work closely with other teams to make sure everyone is on the same page about the product and its market.
For early-stage startups and companies on a tight budget who can't hire both roles, the product manager usually doubles as the product marketing manager.
Product managers and product marketing managers are two important roles in a SaaS company. Combined, they ensure that a product is a good solution for the problem it tries to solve and they work to bring it to its ideal audience – people who will become loyal customers of the product.
But what do they actually do? Are they even the same roles? And what skills do you have to look out for if you want to hire them? We answer all these questions in this article. 
What do a product manager and a product marketing manager have in common?
It's easy to see why some people confuse a product manager with a product marketing manager. It's because sometimes their roles overlap, and that's because they're both working ultimately to grow the product and make it successful. 
So before we dive into what makes them different, let's first look at what these two roles have in common:
#1 The customer is always on their mind. 
One topic you'll often hear the PM or PMMs discuss is the customer. The PM will usually ask, "who are we creating this product for?". His goal isn't to create just any app but to create the best product for the ideal person who won't stop thanking him for the solution to his problems.
The PMM will also ask, "who will buy the product?". Because his job is to bring the product to the people looking for it. It will inform his strategies and how he runs his campaigns. 
Both ultimately want the same thing: to see their product in the hands of satisfied customers. 
#2 They work closely with different departments
Because both want the same thing, they're prepared to do anything to make the product successful. For product-led companies, that means working closely with customer success, engineering, or marketing to make sure that all the departments understand the product well enough to know how to play their part. 
For example, they may collaborate with customer success to help them understand exactly what problems the product solves so that if users reach out for help, they can assist them properly.  
#3 Skillset
Product managers and product marketing managers have a few skills in common, for example, leadership and teamwork skills that are necessary for them to be effective in their roles. We'll go into detail later in this article. 
Aside from these similarities, both roles are different in terms of the approach to their objectives. Now let's explore how different they are from each other.
What are the roles and responsibilities of a product marketing manager (PMM)?
A product marketing manager is responsible for promoting and positioning the product to the target market. This person has got to make sure that the product is effectively communicated to customers, generates demand, and achieves revenue targets. A PMM normally handles the following: 
Conducting market research to understand their customer's needs, preferences, and behaviors.
Using this research data to create relevant buyer personas. 
Developing product messaging and positioning that resonates with the target audience.
Creating and executing go-to-market strategies that align with the product roadmap and business objectives.
Working with marketing to execute marketing campaigns across various channels, including social media, email, and advertising.
Planning feature launches and announcements
Collaborating with sales, customer success, and product teams to create sales enablement materials, like presentations, case studies, and product demos.
A day in the life of a PMM
A product marketing manager's typical day varies depending on the priority for the day, according to Melinda Chung, former Product Marketing Head at Adobe and GoDaddy.
She gives a brief illustration of how her day usually goes:
Mornings = Catching up on emails. Meeting to discuss new feature launches. Get updates from cross-functional teams on key initiatives.
Afternoons: Customer research meetings. Creating customer-facing content. Analyzing data
End of day = Work on presentations for upcoming meetings.
PS: This is not a detailed day-to-day, but it gives you a fair idea of most product marketing managers' daily to-dos.
What are the roles and responsibilities of a product manager (PM)?
The Product Manager defines the strategy and roadmap for the product. This guy or girl has to make sure that the product meets customer needs, stays ahead of the competition, and aligns with the company's overall goals. The product manager takes on the following responsibilities:
Conducting market research to understand customer needs and identify opportunities for innovation.
Defining the product vision, strategy, and roadmap in collaboration with cross-functional teams, including engineering, design, and sales.
Prioritizing features and enhancements based on customer feedback, market trends, and business impact.
Defining and documenting product requirements and ensuring that the development team understands these requirements.
Managing the product lifecycle from ideation to launch, making sure it's released at the right time and at a high quality.
A day in the life of a PM
A product manager's day-to-day varies depending on the company obviously, but this is generally how one will spend their day. 
Mornings = Checking out important product metrics. Tracking and strategizing on the product roadmap. Check emails.
Afternoons = Doing some competitive research on their competitors to find opportunities. Get updates from cross-functional teams on key initiatives.
End of day = Collecting and reviewing user feedback. Sitting down with departments like marketing and customer success to educate them on the product's value, etc. 
PS: Like we said earlier, This isn't a strict day-to-day, but just to have a fair idea of how product managers' go about their day.
Who is more important: Product Marketing Manager or Product Manager?
The question of who is important shouldn't really come up because both departments should be working closely anyway. But sometimes due to the issues of overlapping duties, they might clash on certain decisions affecting the product, such as pricing. In this case, someone needs to have the final say. 
Every SaaS company has a product manager and they do some of the most important work – overseeing the lifecycle of the product, determining what problems the product should solve, and ensuring that customers are happy with the product. 
For most small businesses or companies running a tight budget, only the PM role exists and that person usually wears the PMM hat too. But even if you have a PM doubling as a PMM, someone in the company still needs to own product marketing to make your SaaS successful. 
What skills should a Product Manager and a Product Marketing Manager have?
Typically to be effective in any of these positions, the person will need both hard and soft skills.
First off, both roles don't really have authority over the people they work with, but they'll still need to get everyone on board to hit the set goals, so they must have persuasive skills.
Take the product manager for example. He acts as the "CEO" of the product. He works with timelines to get the product ready for launch. He also works with the data gathered by UX researchers to decide the features of the product. He then works with the engineers to bring the product to life.
So project management and time management skills are a must. He or she doesn't need to be a coder but should understand how to work with them. We've listed 10 skills every good project manager needs to have, according to LinkedIn:
Persuasion
Project management
Strategic thinking
Communication
Problem-solving
Data interpretation/analysis
Product knowledge
Emotional intelligence
Research
Product roadmap development
Collaboration/Teamwork
A product marketing manager also doesn't have to know coding to perform his role. Since he deals more with getting the product to market, he'll rely more on marketing, research, and communication skills. Here are 10 key product marketing skills according to the Product Marketing Alliance (we added a few of our own):
Persuasion
Data analysis
Storytelling
Copywriting
Emotional intelligence
Communication
Collaboration/Teamwork
Problem-solving
Market research
Active listening
Relationship building
Just as we said that the two roles sometimes overlap, some of their skills overlap too. 
Conclusion
In theory, the product manager and the product marketing manager should have clear-cut roles that don't overlap. But in the real world, you won't have it like that – even in a large company. These two roles will keep overlapping.
But that's a good thing because they all want the same thing: creating and promoting a product that their target customers would love and giving them reasons to keep using it.
So if you have the budget, by all means, hire both. As long as both roles are aligned on the same goals, you've got nothing to lose. 
If you want to go in-depth into everything you need to know about product marketing, check out our ultimate guide here.
A weekly dose of insights to grow your SaaS.