What is David Sacks' net worth in 2023? + Biography & Career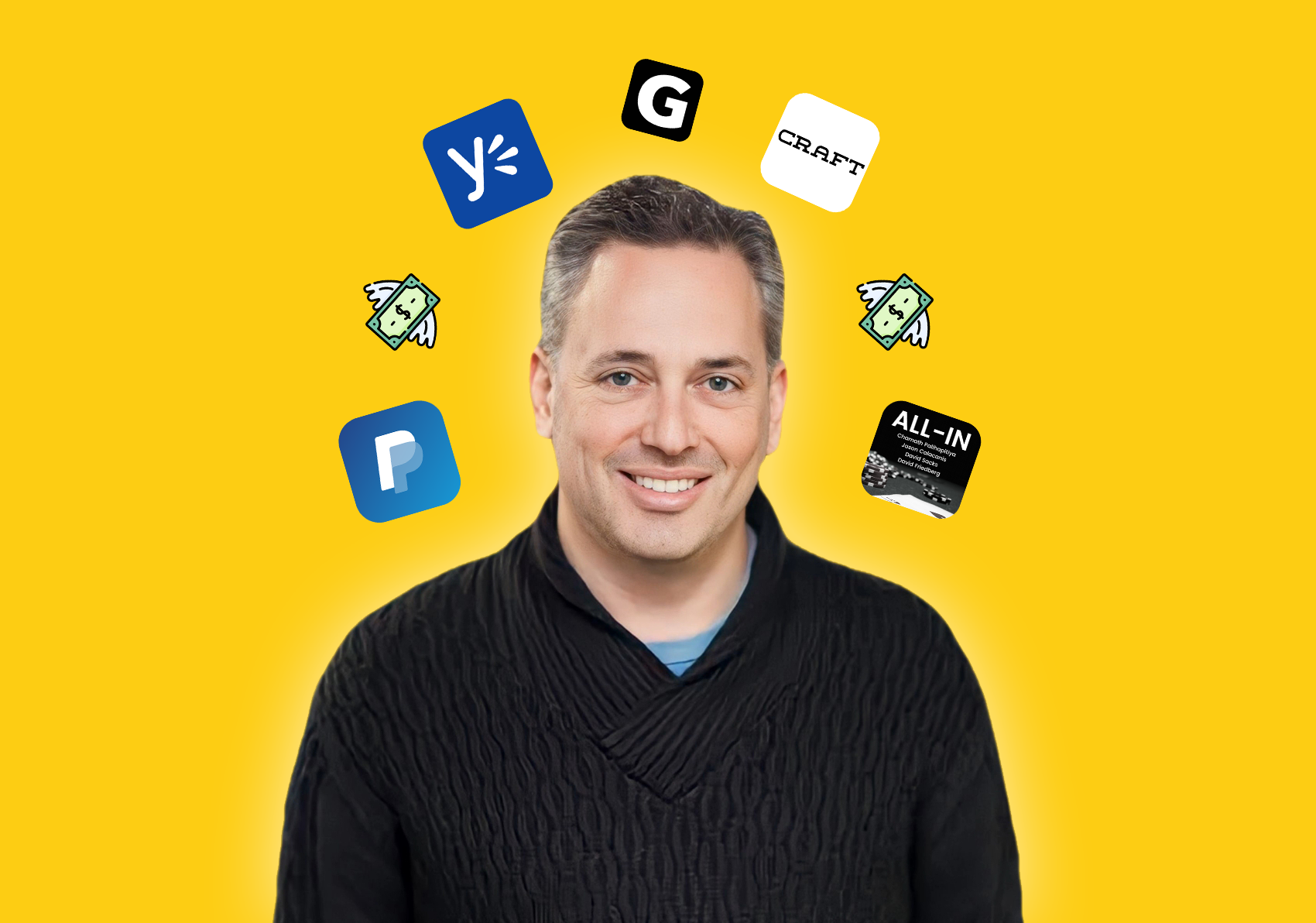 What is David Sacks' net worth?
Highlights
First COO of PayPal
Founded Geni.com and Yammer (both acquired)
Co-founded Craft Ventures
Co-hosts the podcast All-In
David O. Sacks has an estimated net worth of $200 million. He is a tech entrepreneur and investor. He was the former COO of PayPal and is currently the co-founder and general partner at Craft Ventures, a VC fund that has provided early-stage funding for SaaS startups like ClickUp, OpenPhone, and Sourcegraph. He co-hosts the 'All-In' podcast, which focuses on VC, tech, the economy, startups, and politics.
Early Life
David Sacks, whose middle name is Oliver, was born on 25th May 1972 in Cape Town, South Africa. When he was young, his family moved to Tennessee in the USA. He's a Stanford economics graduate and holds a Doctor of Law degree from the University of Chicago Law School.
Career
PayPal
Sacks started working as a management consultant at McKinsey & Company. In 1999 he joined Peter Thiel at PayPal, becoming the company's first COO. It was at PayPal that he met Elon Musk. The pair have remained close friends ever since. They are both faces of the famous 'PayPal Mafia.'
Sacks proved to be a massive asset to PayPal, overseeing the formation and development of key departments, including Sales & Marketing, Customer Service, and Human Resources. He helped grow the company's annual revenue to over $200 million within 3 years! eBay snapped it up for $1.5 billion in 2002.
Yammer
Entrepreneurship had always appealed to Sacks because of his grandad, who owned a candy factory. In 2008, he launched Yammer which was basically Slack before Slack. It became one of the fastest-growing SaaS tools in history, emerging as number one in TechCrunch's TechCrunch50. Microsoft acquired it in 2012 for $1.2 billion. It was the fastest billion-dollar SaaS exit in history (from founding to exit) and still is today. He also created Geni.com in 2006, which was acquired by MyHeritage in 2012. 
Zenefits
Sacks' knack for turning things around saved Zenefits from spiraling downwards when he was brought in as interim CEO during a crisis period in 2014. During his stint, he helped stabilize the company and introduced Z2, an HR SaaS product. This product would go on to be recognized by PC Magazine as one of the best HR software products in the market.
Craft Ventures
Sacks co-founded Craft Ventures in 2017. The venture capital firm currently manages assets worth nearly $2 billion and primarily invests in SaaS companies. Sacks loves investing in early-stage SaaS startups. He's also a crypto investor and was one of the early buyers of the Solana crypto token. 
Podcasting and social media
Callin is Sacks' later venture. It's a 'social podcasting' app that combines podcasting with social interaction (think of a live podcast but Clubhouse-style).
He's also very active on social media. He's active on Twitter, where he regularly shares business tips and opinions. 
He co-hosts the 'All-In' podcast with his friends, where they talk about venture capital, tech, the economy, startups, and politics. The podcast is becoming increasingly influential, with over 300k subscribers and almost 100k monthly listeners. 
Personal life
David Sacks lives in San Francisco with his entrepreneur wife, Jacqueline Tortorice, and their 3 kids. 
After PayPal, I never thought I would get interested in payments again. But bitcoin is fulfilling PayPal's original vision to create the new world currency.
Money is being made programmable. That's a fundamental change with implications we can still barely see.
Finding the outliers, the things that don't neatly fit into the patterns, is another form of feedback.
The big development since the emergence of bitcoin itself is that the underlying enabling technology, the blockchain, has been turned into a developer platform.
In its purest form, currency is confidence.
Zenefits has made mistakes, but it never lost its product-market fit.
Hierarchy of startup skills in ascending order: business, technical, product or design, and growth.
Scalability has been a high-class problem that occurs because a new technology gains rapid adoption.
What you want to do as a manager is focus on the activities that are highest leverage.
Usually, the resource that is most important, that is most limited, is not money but time. That's usually the biggest constraint that we have.
A weekly dose of insights to grow your SaaS.